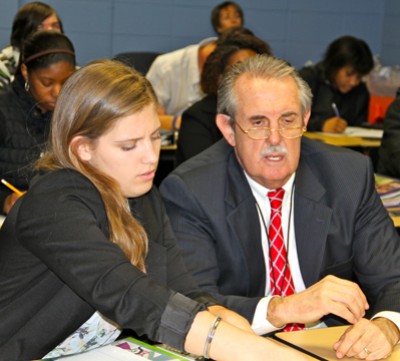 Interim State Superintendent of Schools Bernard Sadusky, right, talks with Danielle Rovnak, left, of Westlake High School following a Telepresence demonstration and class (Submitted photo).
LA PLATA, Md. (February 6, 2012)—Interim State Superintendent Bernard Sadusky participated in an Advanced Placement (AP) Statistics class on Monday at Westlake High School – and at La Plata, Thomas Stone and Maurice J. McDonough high schools. He learned to solve a problem and talked with students and teachers at each school, and he did it without ever leaving his seat at Westlake.
Maryland's superintendent came to Westlake's Telepresence classroom on Jan. 30 to learn about Telepresence and how Charles County Public Schools (CCPS) uses the technology, which creates a shared presence among people in different locations. He watched a combined class of students and teachers at four high schools work through a confidence interval practice problem and calculator functions. He talked on screen with Kaplan representatives in New York and chatted with principals and teachers across the county about how they are using the technology.
Sadusky said he was impressed. "This is bringing the world to the classroom. Charles County is way ahead of what's going on in many systems in this state," Sadusky added.
Last school year, CCPS installed its first two Telepresence classrooms at McDonough and Westlake. Teachers at the two schools co-taught and piloted an AP statistics class through Telepresence, which is videoconferencing technology that uses large screens to create a virtual classroom in more than one location. This year, La Plata and Thomas Stone high schools opened Telepresence classrooms and joined the AP statistics class. Henry E. Lackey's High School's Telepresence classroom was completed two weeks ago, and North Point High School is scheduled to also receive Telepresence.
"This is the wave of the future in teaching and education. The question is, can you learn this way?" Sadusky asked the students.
Justin Lawrence, a Westlake senior, said he adjusted to the on-screen class easily and likes that he has access to teachers from other schools. Each teacher explains the material in different ways, making it easier to learn, Lawrence said.
Annemarie Swanson, a mathematics teacher at McDonough and the lead teacher in the demonstration, said she loves working with the other AP teachers and it has led to a positive exchange of activities and ideas. "The amount of resources instantly doubled for us," Swanson said.
"This is about pushing better instruction and more rigor. Technology does not drive what we do; it is the vehicle we use to get there," CCPS Superintendent James E. Richmond said.
Principals also shared other uses for Telepresence. Evelyn Arnold, principal of La Plata, said it is used for staff development and to globally connect students.
Kevin Barry, AP Human Geography teacher at La Plata, has used Telepresence to connect students to people with expertise in study areas, such as sovereign land rights. "We are going places we can't go in a school bus. By using Telepresence we have been able to expand our classroom borders."
L.C. Martin, principal at Thomas Stone, said they have used the technology for in-service on common core, as a testing site, for systemwide meetings with administrators and other student programs. "This is a special room, and when students come here, they know they are going to learn and see something unique." Martin said he sees never-ending possibilities for student and staff use.
Sadusky credited Richmond with creating a culture shift in the way schools are doing business, and how students learn in the future. "This is the new learning style," Sadusky said, calling the demonstration "problem solving on the flat screen."
"Charles County Public Schools is ahead of the curve in technology," Sadusky said, and commended Richmond and the Board of Education for making wise decisions and investments in technology.
Source: Charles County Public Schools