PRINCE FREDERICK, Md. (February 6, 2012)—Police in Calvert County released the following incident and arrest reports.
WEEKLY SUMMARY: During the week of January 30 through February 5, deputies responded to 1,523 calls for service throughout the community.
CRASH REPORTS NOW AVAILABLE ONLINE: The Sheriff's Office has begun digitizing its crash reports through a partnership with the Carfax Police Crash Assistance Program. The reports are stored electronically in a secure database and available for purchase online. Reports are available within 5-7 business days after the date of the accident. By filing reports electronically, the Sheriff's Office now can provide online access for citizens, insurance companies, and other involved parties while greatly reducing the administrative staff time spent fulfilling each request. The cost of an accident report is $10.00. Accident reports can be accessed online at www.crashdocs.org/md-calvertcountysheriff. Reports can still be obtained in person at the Calvert County Sheriff's Office.
SEEKING INFO ON TIRE SLASHERS: Deputies and Calvert County Crime Solvers are seeking the public's assistance in finding the suspect(s) responsible for numerous tire slashings in the month of December 2011 in Chesapeake Beach. Several victims reported anywhere from one to all four tires on their vehicles either punctured or slashed resulting in thousands of dollars in damage. One vehicle also had severe scratches in the paint. Crime Solvers will pay up to $1000 for information leading to the arrest and conviction of those responsible. Information can be given anonymously. Anyone with information is asked to contact Crime Solvers by calling 410-535-2880 or through the Sheriff's Office website by going to
www.co.cal.md.us/residents/safety/law/sheriff/
and clicking on the Crime Solvers link to leave an anonymous tip on-line.
BODY OF MISSING MAN LOCATED: In August 2011 the Maryland State Police in Prince Frederick were investigating a report of a missing person, Wesley Robert Kyser, 58 of Calvert County. Kyser's family members advised investigators that Kyser was homeless and lived in and around the Prince Frederick area. In September 2011, a human skull was found in the woods near Tate Road in Prince Frederick. Members of the Calvert Investigative Team (CIT), along with search dogs, conducted grid searches of the woods near where the skull was located but did not find any signs of skeletal remains. In November, forensic investigators were able to positively identify the skull as Wesley Robert Kyser.
On February 1, employees with the Highway Maintenance Division of the county's Department of Public Works found skeletal remains of a body approximately 450 yards from September's original site. Those remains have been positively identified as Wesley Robert Kyser and the family has been notified. Detective Sarah Jernigan of the C.I.T. has been investigating the discovery of the skull since September to determine the cause of death. It is believed by the State Medical Examiner Office that the cause of death was natural. The skeletal remains will be sent to the Medicals Examiners Office for further investigation.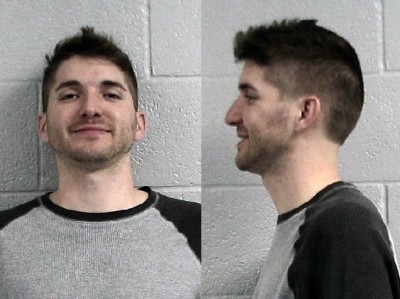 Christopher Thomas Pirner, 27 of Huntingtown. (Arrest photos)
RECKLESS DRIVING: On February 1 at 3:26 a.m., DFC J. Livingston responded to the 7-11 Convenience store parking lot on Md. Rt. 2 and Dalrymple Road in Sunderland for the report of a possible drunk driver. The vehicle immediately left the parking lot and made a left turn onto Md. Rt. 2 at a high rate of speed. DFC Livingston observed the vehicle crossing over the center line and driving in the opposite lane of traffic numerous times. Although DFC Livingston activated lights and sirens the vehicle failed to stop and made a right hand turn onto Mt. Harmony Road still traveling at a very high speed rate. The vehicle lost control and nearly missed a light pole at Quince View Drive before stopping. Livingston made contact with driver, Christopher Thomas Pirner, 27 of Huntingtown, and charged him with reckless driving, negligent driving, failure to stop and eluding a police officer along with numerous other traffic violations.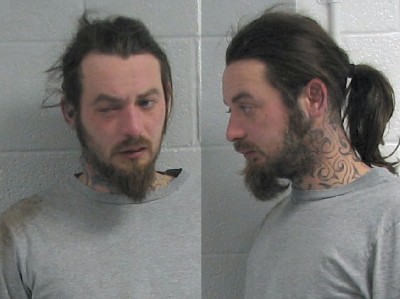 Jason James Brunner, 30 of Chesapeake Beach. (Arrest photos)
ASSAULT: A victim advised DFC A. Woodford on February 3 at 11:30 a.m. that a man had just assaulted him on the sidewalk and run into a house on Erie Ave in North Beach. The victim further advised that he was walking on the sidewalk with his toddler daughter and brother-in-law when they were approached by the suspect who used profanity and vulgar names toward them. The suspect then assaulted the victim by punching him in the face, breaking his glasses. Woodford made contact with the suspect who said that the victim had spit on the sidewalk in front of him. A Maryland State Trooper responded to assist and was also verbally accosted by the suspect, identified as Jason James Brunner, 30 of Chesapeake Beach. Brunner was asked repeatedly to quiet down and stop using abusive language but he refused. Brunner was arrested and charged with second degree assault and disorderly conduct.
DESTRUCTION OF PROPERTY: Unknown person(s) threw a vodka bottle through the window of the Company 2 firehouse in Prince Frederick sometime between February 2 and 4 causing $150 in damage. Anyone with information is asked to contact Dep. G. Gott at 410-535-2800 or Calvert County Crime Solvers at 410-535-2880 to leave information anonymously.
THEFT FROM VEHICLE: Unknown suspect(s) stole an iPhone, jacket and assorted cosmetology supplies from a vehicle parked outside a home on Avery Road in Prince Frederick overnight between February 4 and 5. The victim advised DFC E. Bradley that he thought he had locked the vehicle the night before although no signs of forced entry were evident.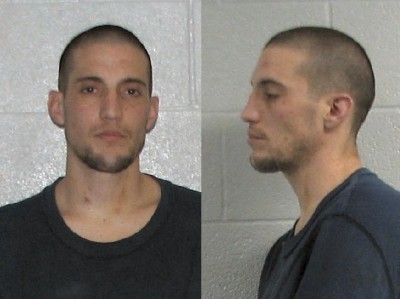 Michael Stephen Montgomery, 27 of North Beach. (Arrest photos)
DRUG ARREST: On February 4 at 2:43 p.m. DFC A. Woodford responded to the Fastop on Chesapeake Ave in North Beach for the report of a male subject asleep behind the wheel of a parked vehicle. Woodford approached the vehicle and observed a man in the driver's seat who appeared to be sleeping, and woke him. Woodford observed assorted pills in the vehicle and subsequently arrested Michael Stephen Montgomery, 27 of North Beach and charged him with possession of Oxycodone and possession of Alprazolam.