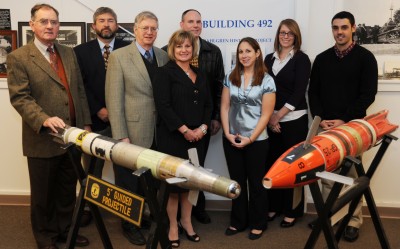 The Dahlgren History Team gathers around two projectiles at the Naval Surface Warfare Center Dahlgren Division (NSWCDD), left to right: Wayne Harman, Brad Johnson, Robin Staton, Stacia Courtney, Jim Poynor, Karen Lauterbach, Amelia Toms and Greggory DiSalvo.
DAHLGREN, Va. (February 1, 2012)—The Dahlgren History Team at the Naval Surface Warfare Center Dahlgren Division (NSWCDD) was presented with the Distinguished Community Group Service Award at the NSWCDD annual honor awards ceremony Jan. 20 for their exemplary efforts to preserve and present the scientific and technical heritage of the Dahlgren Base and Dahlgren Division. The Dahlgren History Project was recognized for enhancing and promoting Dahlgren Division's innovation and excellence. "In presenting the past and present stories of the people and the products of Dahlgren, the workforce and the surrounding community have a renewed awareness and appreciation for the contributions the work here have provided to the Navy, the nation and the world," according to the citation.
The projectile pictured on the left is a 5 inch semi-active laser (SAL) guided projectile. The orange projectile is an 8 inch SAL guided projectile. Development of the 8 inch SAL guided projectile occurred at the Naval Weapons Laboratory beginning in the late 1960's while most of the work on the 5 inch SAL guided projectile was accomplished in the early 1970's. They were intended for use on Navy ships with 5 and 8 inch guns, to provide a less expensive capability (compared to guided missiles) for Navy ships to deliver guided ordnance for both ship and shore targets.
"You've heard about the guns and the computers. They're a big part of the Dahlgren story. But there's so much more to how this Navy base has impacted the community, the nation and the world. That's what you will soon find in the Dahlgren Heritage Museum," said Ed Jones, Dahlgren Heritage Foundation President on the organization's website,
dahlgrenmuseum.org
. "From the early days of this museum project, we have discovered how deep and broad the Dahlgren community really is. Those who worked on the base, grew up there or just appreciate the role Dahlgren has played are all pitching in to make this museum a reality. We need a bigger megaphone to tell the Dahlgren story. In essence, that will be the mission of the Dahlgren Heritage Foundation in operating this museum. Working with our partners, the military commands at Dahlgren and the Navy History and Heritage Command, the Foundation will share the stories that have made Dahlgren a crown jewel of national defense."