By DREW GROSSMAN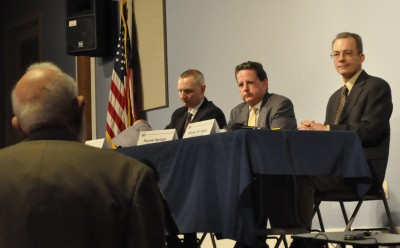 From left to right, Gary Arnold, Ronald Spritzer and William Sager of the Atomic Safety and Licensing Board listen to public testimony at Wednesday's public hearing on a third reactor for Calvert Cliffs Nuclear Power Plant. (Photo by Drew Grossman)
SOLOMONS, Md. (January 25, 2012)—Calvert County business owners and nuclear energy advocates testified Wednesday in support of a plan to build a third reactor at Calvert Cliffs Nuclear Power Plant, saying it would help the local economy.
The hearing held by the federal Atomic Safety and Licensing Board gave nuclear regulators an opportunity to hear from local residents and others about the proposed expansion of the plant, which could bring the nation's first new reactor since 1974.
"The Board of County Commissioners believes that there is no substitute for this project and the benefits it will bring to our region," Jerry Clark, president of the Calvert County Board of County Commissioners, told the atomic safety board at the hearing at the Calvert County Marine Museum.
"There is no other clean alternative that will produce this kind of power without a much greater impact on our environment. The Calvert Cliffs site is perfectly suited for a project of this magnitude," he said.
UniStar Nuclear Energy, a subsidiary of a French energy company, still has many hurdles to clear before it can begin construction on the new reactor.
Earlier this month, the Maryland Board of Public Works voted unanimously to grant UniStar a wetlands permit it needed to proceed.
But UniStar still needs to find an American-owned partner company to avoid running afoul of Nuclear Regulatory Commission regulations that limit foreign ownership. 'Baltimore-based utility company Constellation Energy pulled out of a joint venture with UniStar in 2010.
And on Thursday, the atomic safety board will hold a legal hearing in Prince Frederick to address a challenge from four anti-nuclear groups who oppose construction of the third reactor. The groups say the plant did not thoroughly consider alternatives to a new reactor, including wind and solar power generation facilities.
"They're arguing that there was not enough emphasis on renewable energy, so they'll get a chance to make that case tomorrow," said Neil Sheehan, a spokesman for the Nuclear Regulatory Commission.
The atomic energy board is affiliated with the NRC. 'A ruling by the board is expected in the spring.
At Wednesday's hearing, 15 out of 16 speakers said they supported the construction of the third reactor.
They pointed to studies on the efficiency of nuclear energy and outlined the potential economic benefit of a third reactor.
Evan Lapiska, a representative of the Clean and Safe Energy Coalition, an organization that supports nuclear energy, told the board the reactor could bring 1,400 to 2,400 construction jobs to Southern Maryland. Once it's operational, it will require between 400 and 700 employees to run it, he said.
"The economic impact to the region will be significant," he said.
But Calvert County resident Cindy Peil, the only person to testify against the new reactor Wednesday, said alternatives to nuclear energy must be explored.
"Calvert Cliffs 3 is simply highly, highly undesirable for the environment here in Maryland," Peil said.