LA PLATA, Md. (January 10, 2012)—The Charles County Sheriff's Office today released the following incident and arrest reports.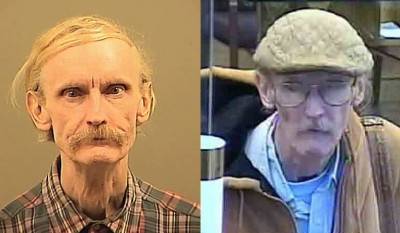 Richard Lamont Rohland, 73, has been missing from his assisted living residence since January 3.
MISSING PERSON: Charles County Sheriff's detectives are searching for Richard Lamont Rohland, 73, who left his assisted living home in Waldorf on Tuesday, Jan. 3 and never returned. Detectives tracked Rohland's movements to a bank in Washington, D.C. which is where he was last seen. According to caretakers, Rohland likes to frequent libraries and shopping centers and he may be headed to Baltimore. Rohland is a white male, 5'9", 150 lbs., gray hair, glasses and a moustache. He is hearing impaired and has Dementia. Anyone with information about Rohland's whereabouts should call the Charles County Sheriff's Office at (301) 932-2222. Det. B. Buchanan is investigating.
UPDATE 10-JAN-2012 @4:19 p.m.: The gentleman was found today at Safeway in the Smallwood Village Shopping Center in Waldorf.
OFFICERS APPREHEND THEFT SUSPECT AND RECOVER STOLEN CAR: On Jan. 9 at 1:31 a.m., officers responded to the 4200 block of Drake Court in Waldorf for the report of a theft that just occurred. The victim told officers he had been out and when he returned home, he found the front door had been forced open and the suspect, Jill Andre-A Harris, 45, of Indian Head, was sleeping on the floor. He told Harris - an acquaintance - to leave at which point she punched him, stole two cell phones and fled in a car. Officers canvassed the area and located the car parked at a nearby convenience store. A computer check revealed the vehicle she was driving - a Toyota Camry - had been reported stolen in Prince George's County. When Harris came out of the store, officers approached her and found her in possession of the stolen phones. She was arrested and charged with theft, burglary and unauthorized use of a motor vehicle. Officer C. Barrows is investigating.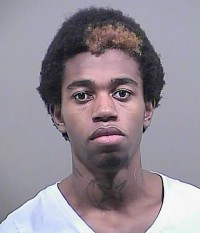 Terence Andrew Dyson, Jr., 18, of Pomfret, has been arrested for the murder of his 19-year-old friend. Police suspect robbery was the motive. (Arrest photo)
SHOOTING: On Jan. 7 at 12:03 a.m., officers responded to the 6600 block of Bucknell Road in Bryans Road for the report of a shooting. At about the same time, officers received a call for a shooting victim at a private residence in the 2400 block of Gerard Court. Officers on the scene of Bucknell Road found a 16-year-old male with gunshot wounds to his torso. He was transported to a hospital with life-threatening injuries. Officers responding to Gerard Court found a 19-year-old male inside his house with a gunshot wound to his torso. He was transported to a hospital with serious injuries.
A preliminary investigation showed the 16-year-old and his friends were involved in an altercation with the 19-year-old and his friends' moments earlier near the intersection of Bucknell Road and Chippewa Street. During the altercation, shots were fired into the group and two people were struck. The 19-year-old ran to his house and called 911 and the 16-year old collapsed on the scene.
As detectives gathered more information, Terence Andrew Dyson, Jr., 18, of Pomfret, was developed as a suspect. Dyson -- a friend of the 19-year-old—was subsequently arrested and charged with attempt murder, first-degree assault, second-degree assault, theft, and carrying a handgun. He was remanded to the Charles County Detention Center. Detectives are looking into the possibility that robbery was a motive.
ROBBERY: On Jan. 8 at 12:50 a.m., two teens walking in the area of Mall Circle Drive were approached by two masked males who assaulted them and stole their shoes, money and cell phones. Officers canvassed the area and are working on leads.
OFFICERS FIND HEROIN DURING TRAFFIC STOP/TWO CHARGED: On Jan 5 at 1:43 a.m., officers initiated a traffic stop in the 6300 block of Oliver Shop Road in Bryantown after observing a Dodge Neon being driven on the wrong side of the roadway. Upon approaching the car, officers noticed the driver and passenger appeared to under the influence of drugs. They also observed heroin and drug paraphernalia inside the car. The driver, Steven Michael Scott, Jr., 21, of Charlotte Hall, and the passenger, Ashley Nicole Clower, 22, of Mechanicsville, were arrested and charged with possession of illegal narcotics and possession of drug paraphernalia. Scott was also charged with traffic offenses. Officer J. Fromme made the arrest.
OFFICERS RECOVER STOLEN MOTORCYCLE FRAMES: On Jan 4 at 12:59 p.m., officers recovered three motorcycle frames in a wooded area in the 14600 block of Cockold Creek Road in Newburg. The frames had been reported stolen from various counties throughout the region.