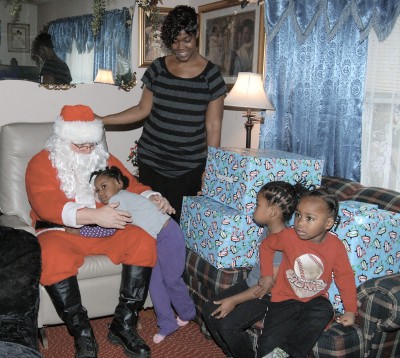 Santa helps spread some Christmas joy with a family adopted by the St. Mary's County Sheriff's Office.
LEONARDTOWN, Md. (December 23, 2011)—The Corrections Division of the St. Mary's County Sheriff's Office has once again adopted a family to help brighten their holiday season. Officers and civilian employees have adopted a family every year since 1996.
Senior administrative coordinator D. Leann Quade and administrative coordinator Valerie Hayden work with the County's Department of Aging and Human Services to identify a family in need. Ms. Quade started the program fifteen years ago.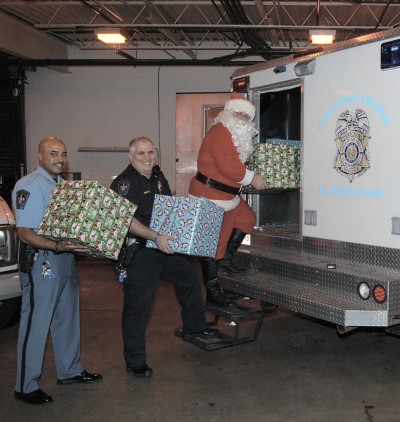 Santa and his helpers from the Corrections Division load gifts in preparation for his visit to their adopted family.
"We do it for the children," said Quade. "Kids have no control over their parent's financial situation. "We love to see the smiles on their faces when Santa shows up at the door with gifts. Our employees are very fortunate and we want to share our good fortune with our community."
This year, employees rallied to raise over $700 to purchase booster seats, winter coats, shoes, clothing and toys for the adopted family's children, who are ages 5, 4, and 2. They also purchased a Wii for the entire family to enjoy.