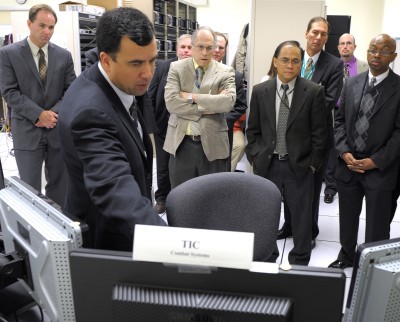 Phil Irey, lead computer scientist at the Dahlgren Division of the Naval Surface Warfare Center, explains to Department of the Navy officials the Office of Naval Research's suite of information technology tools designed to improve fleet operations during a series of experiments at the Integrated Warfare Systems Laboratory in Dahlgren, Va. The centerpiece of the effort is a "universal gateway" system designed to pass data securely and swiftly between a ship's combat system network and its command-and-control network. (U.S. Navy photo by John F. Williams/Released)
DAHLGREN, Va. (December 23, 2011)—Engineers at the Naval Surface Warfare Center Dahlgren Division (NSWCDD) completed the two-week experiment with a new software Dec. 16 which is designed to streamline fleet operations.
"We're trying to take our prototypes and have them work in the actual environment they'll have to operate in aboard a ship," said Wayne Perras, the Office of Naval Research (ONR) project officer overseeing the experimentation at NSWCDD's Integrated Warfare Systems Laboratory.
The Limited Technology Experiment, which ran Dec. 5-16, aimed to evaluate the network gateway security and performance between shipboard combat and command and control networks.
The centerpiece of the effort is a "universal gateway" system designed to pass data securely and swiftly between a ship's combat system network and its command-and-control (C2) network.
"ONR's goal this year focused on maturing the universal gateway to a technology readiness level of six which requires testing in a relevant environment," said Phil Irey, the NSWCDD lead scientist for the experiment. "To achieve this, we integrated the gateway and representative command and control systems with the Aegis Baseline 9 Development Suite."
The Aegis combat system integrates state-of-the-art radar and missile systems and is capable of simultaneous warfare on several fronts - air, surface, subsurface, and strike. The Aegis C2 network connects to warfighting systems located beyond the ship, bringing in external sensor data and information used to help warfighters conduct their missions.
"We're building a single, universal gateway so all data can move through it, to increase performance, flexibility, transparency of data and information assurance between the two networks," said Perras.
ONR and NSWCDD scientists and engineers believe the universal gateway will enable warfighters to access accurate information more quickly and securely than the combat systems and C2 networks currently aboard Navy warships.
"Today, we have a multitude of inflexible mechanisms for data transfer between the combat system and C2 systems - each with a varying level of security posture," said Irey. "Our goal in participating in the development of the universal gateway was to produce a common component with a uniform set of flexible data transfer mechanisms and uniform information assurance controls that protect both domains and the data in transit between them."
Any bugs discovered during experimentation could be fixed by spring 2012.
"That's the objective of the experiment - trying to reduce risk for program managers and program executive officers in transitioning the science and technology-developed prototypes as much as possible to get them to the fleet as fast as possible," said Perras.
The experiment supported an expected transition of the technologies to the fleet in 2013.
NSWCDD is a Naval Sea Systems Command field activity and a research and development center that serves as a specialty site for weapon system integration. The activity rapidly introduces new technology into complex warfighting systems based on its longstanding competencies in science and technology, research and development, and test and evaluation.
Source: NSWC Dahlgren Division and the Office of Naval Research