By Kristina Pydynowski, Senior Meteorologist for AccuWeather.com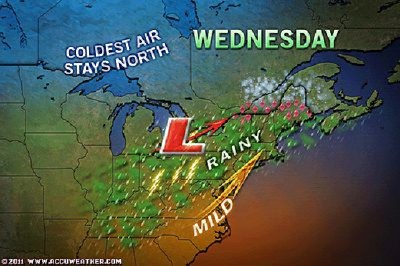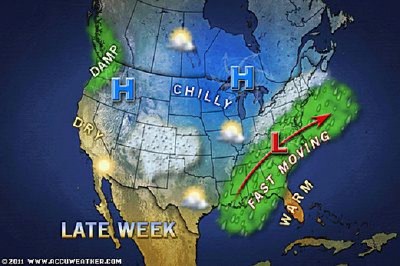 STATE COLLEGE, Pa. (December 21, 2011)—AccuWeather reports snow will remain largely absent today, but there are still other opportunities for parts of the Northeast to turn into a winter wonderland this Christmas week.
Mainly rain and rare late-December thunderstorms will continue to wet the Northeast today despite the same storm that recently unleashed the blizzard over the southern High Plains moving through.
The Northeast lies on the warm side of the storm, where temperatures will soar into the lower 50s as far north as Buffalo and Boston today.
Without an invasion of fresh arctic air, few snowflakes will even be found on the storm's colder western side from Chicago to Detroit. Dense fog creating hazards for travelers is the greater concern within this zone.
The surge of mild air, however, will not be effective in eliminating wintry weather throughout the entire Northeast today.
Stubborn pockets of cold air threaten to create slippery spots in upstate New York and New England, according to AccuWeather.com Expert Senior Meteorologist Alex Sosnowski.
A greater opportunity for parts of the Northeast to turn into a winter wonderland will come Thursday night with the arrival of a new storm.
While another soaking rain event awaits the mid-Atlantic and far southern New England, the stage is set for a narrow swath of disruptive snow to spread from southern New York to central New England.
The potential exists for 3 to 6 inches of snow within this zone, leading to slick and treacherous travel in cities such as Albany, N.Y., and Concord, N.H.
The heaviest snow should remain north of Boston, but the appearance of snowflakes Friday morning as the rain winds down cannot be ruled out.
In the wake of the storm, AccuWeather.com Meteorologist Evan Duffey is concerned that the lake-effect snow machine will reactivate downwind of the eastern Great Lakes on Friday.
A repeat of the system that lightly coated the Northeast's interior this past weekend may follow on Saturday.
Attention will then turn toward what could be a special treat from Santa for millions of people across the Northeast on Christmas Day.