Calvert sheriff says he expects fewer "incidents" with the bar closed
By Sarah Miller,
The County Times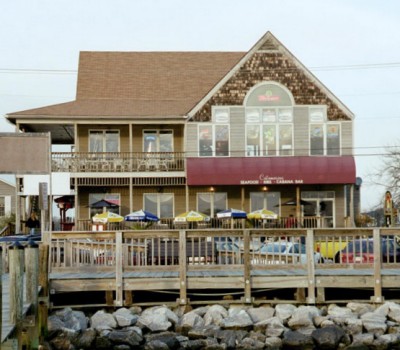 Catamarans Bar as seen from the Patuxent River waterfront on Solomons Island. (somd.com File Photo)
HOLLYWOOD, Md.—After 15 years, Catamarans on Solomons Island is out of business.
"The reign is over," said Jim Seymour, owner of Catamarans since 1996. He said he bought the property in 2000.
First Mariner Bank purchased the property at auction Nov. 10 for $840,000, according to Seymour. He said he owed $1.78 million on the property, which he was working with the bank to settle until "they stole it."
As of Sunday, Catamarans, under Seymour's ownership, shut its doors for good.
David C. Bischoff, vice president for First Mariner Bank, appeared before the Calvert County Liquor Board on Dec. 8 to discuss the sale of Catamarans and what will be done with the liquor license attached to the property. Bischoff lobbied to keep the license attached as is because it adds to the location's value, and will make it easier for the next occupant to start business.
The liquor board said the license would stay in effect for 30 days after Seymour is no longer the owner. After that, the new owner will have to pursue a new license.
Calvert County Sheriff Mike Evans said he foresees a decrease in the number of incidents on Solomons with the closure of Catamarans.
Evans said Seymour tried to run a decent establishment, adding he feels sorrow for Seymour losing his livelihood, and for his employees losing their jobs right before Christmas.
The sheriff said the
frequent incidents reported at Catamarans
were not the fault of the management, but the people who showed up.
Don Mueller, president of the Solomons Island Civic Association, had no such reservations.
"You have three stabbings at a bar, something's not being run right," he said.
Mueller said the civic association is not happy to see an establishment close its doors, but the reputation and violence attributed to Catamarans and other venues is "unacceptable for the island."
So what's next for Seymour? He said he plans to open a new restaurant in St. Mary's County.
"I'm pretty much done with Solomons," he said.
Seymour said he is currently in negotiations to open a restaurant in the former Lone Star Steakhouse building in Lexington Park with a 10-year lease and plans to purchase the property. If all goes smoothly in getting a liquor license, he plans to open a restaurant by February.
As for the Catamarans property, Bischoff said buyers are interested in purchasing the property; some even came forward at the auction Nov. 10.
Several calls and emails to Calvert County Department of Economic Development officials went unanswered as of Tuesday.