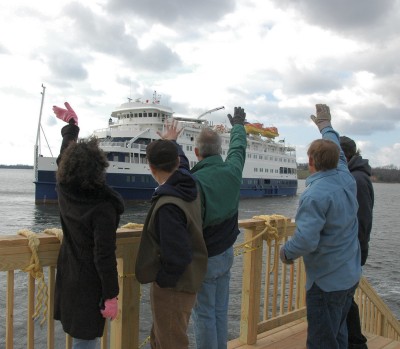 St. Mary's College of Maryland staff wave farewell Sunday to the Sea Voyager, which housed 240 SMCM students for almost two months. (Photo: Lee Capristo)
ST. MARY'S CITY, Md. (Dec. 20, 2011)—Large cables were slipped off pilings at the Historic St. Mary's City (HSMC) pier Sunday, Dec. 18, and with that the cruise ship, the Sea Voyager, was headed down the St. Mary's River and back to sea after nearly two months' service as temporary housing for 240 students from St. Mary's College of Maryland. The students were moved to campus vacancies and to the floating dorm while recurring mold was remediated from their residence halls.
The residence halls have received a clean bill of health by CEI, an environmental consultant agency, after successful inspections and air sample testing. Students, who have left for the holidays, will return to their dorms on campus in January for the spring semester.
"As we close this chapter in our school's history, I would be remiss if I did not acknowledge the extraordinary efforts of everyone who helped us with this unique solution," said Joseph Urgo, college president. "We remain particularly grateful for the gracious assistance of Historic St. Mary's City. We also thank neighbors along the St. Mary's River for their patience."
A total of 350 students were moved to campus vacancies and area hotels in October following testing from CEI and advice from an occupational physician specializing in the field. Transportation was provided to students moving off campus, but it quickly became apparent that due to traffic congestion a new solution for students in the hotels would have to be found. An alumnus suggested the ship, which is for sale and was nearby. Soon, 240 students were climbing the gangplank to their new homes for the duration of the semester.
The ship was tied to the HSMC pier on the St. Mary's River because the college pier was too shallow for the ship during low tides. It was nestled alongside the historic Maryland Dove, a replica of the first ship to arrive in St. Mary's City in 1634, in a novel snapshot of old and new. "We, the waterfront staff and volunteers of the museum, were pleased to assist in the college's time of need," said Will Gates, HSMC's maritime curator. Added Regina Faden, HSMC executive director, "On behalf of all the staff and the Commission of Historic St. Mary's City, I second Will Gates' expression of pleasure to be of assistance to the college, our neighbor and partner. Congratulations on your creative solution to a difficult situation."
Source: SMCM