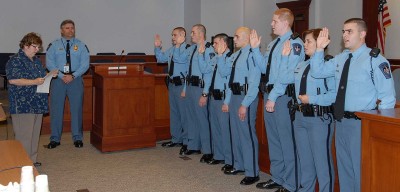 New deputies are shown being sworn in after graduation from the police academy. From left to right: Deputy Timothy Shomper, Deputy Austin Schultz, Deputy Vincent Pontorno, Deputy Joshua Krum, Deputy Christopher Beyer, Deputy Dinara Beasley, and Deputy William Bankhead. (Submitted photo) [
See more photos here
]
LEONARDTOWN, Md.—The St. Mary's County Sheriff's Office recently welcomed seven new deputies to its ranks. The new public servants recently completed a 28-week police entry-level training program at the Southern Maryland Criminal Justice Academy in Doncaster.
The new deputies are: Christopher Beyer; Dinara Beasley; William Bankhead; Timothy Shomper; Vincent Pontorno; Joshuya Krum; and Austin Schultz.
The graduation ceremony was held at La Plata High School on Friday, November 18. The deputies' training program included instruction on criminal law, constitutional law, traffic law, patrol procedures, firearms, defensive driving, and first aide.
Four of the deputies received special awards for exemplary performance:
-- Physical Fitness Award - Deputy Timothy Shomper;
-- Firearms Award - Deputy William Bankhead;
-- Emergency Vehicle Operations Award - Deputy Austin Schultz; and
-- Scholastic Achievement Award - Deputy Joshua Krum.
The deputies will begin their new career by field training with a seasoned deputy.
See more photos at
http://www.flickr.com/photos/somdcom/sets/72157628461135005/detail/