Five Scholarships to be Awarded for Non-Credit Training Programs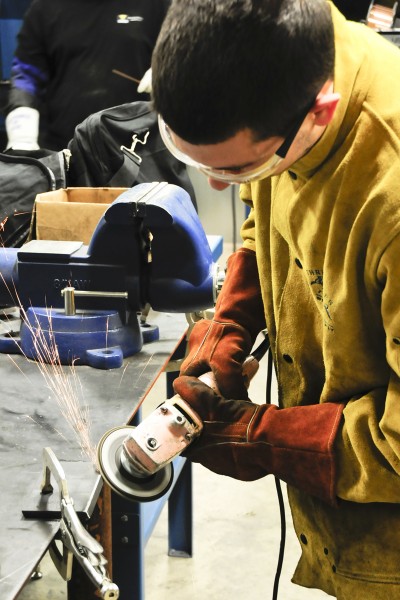 The College of Southern Maryland is hosting an open house at the Center for Trades and Energy Training in Waldorf on Jan. 19, to introduce construction non-credit training programs for people who are interested in carpentry, welding, electrical, and heating, ventilation and air conditioning (HVAC), and plumbing careers. Learn more about welding at
http://youtu.be/PvvLHbgKtVA
LA PLATA, Md. (December 17, 2011)—The College of Southern Maryland is hosting five Career Starters program open houses beginning with the La Plata Campus on Jan. 9, the Leonardtown Campus on Jan. 10 and the Prince Frederick Campus on Jan. 11 to introduce its slate of non-credit training courses for people who want to kick-start a career in a high-demand industry in 10 to 16 weeks. CSM will host open houses for the Center for Transportation Training in La Plata on Jan. 18 for people interested in commercial licensure and for the Center for Trades and Energy Training in Waldorf on Jan. 19, to introduce construction non-credit training for people who are interested in carpentry, welding, electrical, and heating, ventilation and air conditioning (HVAC), and plumbing careers.
Open House guests can enter a drawing for an instant scholarship for the spring 2012 semester with one scholarship to be awarded at each of the five open houses.
Career Starters programs include classes offered in short sequences for students to gain skills quickly to enter the workforce. The career fields of business, construction, early childhood, healthcare, hospitality, information technology, transportation, veterinarian and many more are offered through the Career Starters program.
During the open houses, prospective students will have an opportunity to meet with a program coordinator and instructors from each career field, learn location and schedule of classes for individual training programs, learn about financing options and register for classes.
The Center for Trades and Energy Training, located at 17 Irongate Drive in Waldorf, will offer training courses focusing on construction trades, the Center for Transportation Training, located at 5825 Radio Station Road in La Plata, will offer commercial licensure courses and all other Career Starters training program courses will be offered at CSM campuses in La Plata, Leonardtown and Prince Frederick. Additionally, through Career Services, students can receive assistance in building a resume and developing solid interview skills as well as have access to the college's online Job Connections employment database.
Career Starters Open Houses will be from 4 to 6 p.m. on Jan. 9 at the La Plata Campus, Center for Business and Industry, Room 113; from 4 to 6 p.m. on Jan. 10 at the Leonardtown Campus, A Building, Auditorium; from 4 to 6 p.m. on Jan. 11 at Prince Frederick Campus, Flagship Building, Room 119; from 4 to 6 p.m. on Jan. 18 at the CSM Center for Transportation Training on Radio Station Road in La Plata; and from 4 to 6 p.m. on Jan. 19 at the Center for Trades and Energy Training on Irongate Drive in Waldorf.
For information on Career Starters, visit
www.csmd.edu/CareerStarters/
or call 301-934-7765 or 301-870-2309, 240-725-5499 or 443-550-6199, Ext. 7765.
CSM's campuses are accessible to patrons with disabilities. Audio description for the visually impaired and sign language interpretation for the hearing impaired are available with a minimum two week advanced notice. If you are interested in these services, please contact the academic support/ADA coordinator at 301-934-7614.