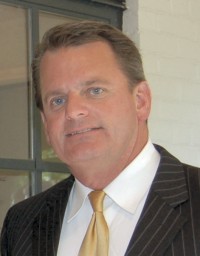 Neal Davidson has been promoted to NAVAIR Senior Manager by his company, Imagine One.
CALIFORNIA, Md. (December 17, 2011)—Imagine One has promoted Mr. Neal Davidson to NAVAIR Senior Manager. The company is a military contractor with 300 employees company-wide, 100 of which are based in St. Mary's County.
Davidson came to Imagine One as a program manager (PM) and business development professional in May 2009, specializing in the NAVAIR arena. Davidson, a retired Navy veteran, has over twenty-eight years of experience in operational flying, management of aviation programs, training analysis, and government business development aspects. After graduating from the US Naval Academy in 1983, Neal served as a helicopter and airplane pilot, logging over 4000 flying hours in his 20 years of military service. He gained experience in aviation training, aircraft maintenance, aircraft acceptance, and flight training evaluation in both fixed-wing and rotary-wing aircraft during his military career. He served on multiple deployments world-wide including tours of duty in the Middle East and Latin America.
"I look forward at striving to maintain our current vision and mission directives while making sure our top priorities are our people and our customers," said Davidson at the company's annual meeting when the announcement was made. "I am encouraged and excited being part of the Imagine One team as it continues to grow and prosper in the next few years."
Founded in 1998, Imagine One is a woman-owned 8(a) small business with additional offices in Arlington, Va., Charleston, S.C. and Colonial Beach, Va. The company employs over 100 professionals in St. Mary's County and 300 company-wide. For more information, visit www.imagine-one.com.