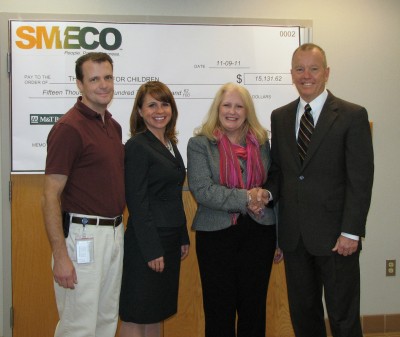 Southern Maryland Electric Cooperative presents its contribution to the Center for Children. Pictured from left are John Barrett, SMECO Purchasing Supervisor, Kimberly Rosenfield, President of the Board of Directors of the Center for Children, Catherine Meyers, Executive Director of the Center for Children, and Austin J. Slater, Jr., SMECO President and Chief Executive Officer. (Submitted photo)
HUGHESVILLE, Md. (December 17, 2011)—Employees of Southern Maryland Electric Cooperative (SMECO) recently donated more than $15,000 to the Center for Children in Southern Maryland. The Center for Children serves Calvert, Charles, and St. Mary's counties through offices located in La Plata, Leonardtown, and Prince Frederick. The money will aid the group's mission of providing therapy and psychiatric services to families who have no options to pay.
SMECO raised the money through the 2011 Charity Golf Tournament, supported by a group of volunteers, vendors, and the SMECO executive team. Each year, the Co-op selects a different charity to benefit from employee contributions. This year's charity was the Center for Children. According to Richard Jarboe, SMECO supply chain director, "Our employees embody the Co-op's mission, 'to enhance the quality of life in Southern Maryland,' but without the generous donations and sponsorships from SMECO's supply chain partners, this substantial gift would not be possible."
"The contribution made by SMECO's employees and vendors will be used to help us provide the services that are so badly needed for children who have lived through traumatic experiences, and even for those who just need special services they are unable to find anywhere else," stated Catherine Meyers, Executive Director of the Center for Children. She added, "Since the organization was founded in 1989, the number of families served each year has continued to climb. About 4,000 children from Calvert, Charles, St. Mary's, and southern Prince George's counties receive assistance each year."
Meyers continued, "SMECO lights up the community and the Co-op is helping us to light up the lives of children. Participation in our mental health services and programs for victims of child abuse has increased during these stressful economic times, and contributions from the community can help to alleviate some of the burden that weighs so heavily on the families of Southern Maryland."
Source: SMECO