By John J. Joyce, NSWC Dahlgren Division Corporate Communications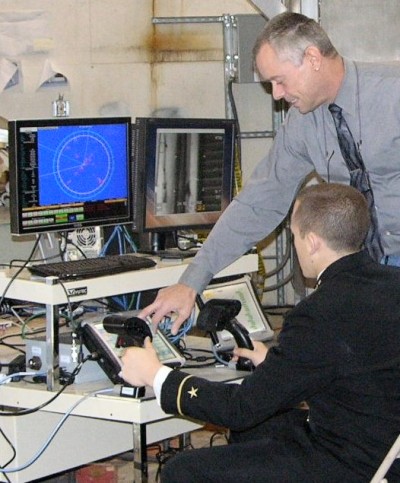 A U.S. Naval Academy midshipman tracks an imagery target while controlling the gun console for the Surface Warfare Mission Module (SWMM) that includes two 30mm Gun Mission Modules (GMM) at NSWC Dahlgren Nov. 19. Meanwhile, a Navy civilian SWMM engineer provides guidance, explaining how the Gun Mission Module operates. The modular weapon system can be easily changed out to facilitate incorporation of future technologies that many midshipmen will see when they are Littoral Combat Ship (LCS) crew members. SWMM replaces a traditional fixed weapon system that was permanently installed on ships such as the AEGIS DDG. The GMM is an integral part of the LCS which will be used for counter-piracy, maritime interdiction and security missions.
DAHLGREN, Va. (December 09, 2011)—Electric weapons, lasers, directed energy and electromagnetic railgun.
This is what two groups of U.S. Naval Academy (USNA) Midshipmen traveled to
Naval Surface Warfare Center Dahlgren Division
(NSWCDD) to see in November - technological capabilities that are a big part of their future and the 21st century Navy.
The 45 midshipmen interacted with civilian scientists and engineers, asking questions while getting a close-up look and hands-on feel for technologies under various stages of research, development and deployment.
"The Naval Academy's annual combat system tour at NSWC Dahlgren highlights the critical role that STEM (science, technology, engineering and math) education plays in enabling the United States and the U.S. Navy and Marine Corps to remain the economic, technological and military leader of the globe in the 21st century," said Jon Dachos, NSWCDD Combat System Engineer and Human Systems Integration Command Center Design Lead.
At Dahlgren, the students acquire an insight about current and developing technologies that they bring back to their classrooms. After graduation, the USNA class of 2012 midshipmen will take this technical knowledge out to the Fleet as commissioned Naval and Marine Corps officers.
Their technical savvy now includes a new understanding about electric weapons and lasers.
Most conventional weapons rely on chemical energy (explosives) as their destruction mechanism, either to explode on target, like bombs, or to create kinetic energy, like a bullet. Electric weapons are different. The midshipmen saw how electric weapons store electrical energy, rather than explosives, to attack or destroy the target.
"The Navy's future is bright," said USNA class of 2012 midshipman Aaron Denson. "I'm really impressed with the actual technology coming out and excited to apply it in the Fleet - especially the lasers, high frequency weapons and directed energy. It's absolutely amazing."
NSWC Dahlgren engineers told Denson and his classmates that electric weapons fall into two categories: directed energy weapons and electromagnetic launchers. Directed energy weapons send energy, instead of matter, toward a target and can be separated into three types: laser weapons, particle-beam weapons, and high-power microwave or radio frequency weapons.
Midshipmen listened intently as Navy engineers explained the types of electromagnetic launchers, how the launchers use electrical energy to throw a mass at a target and why the launchers are distinct from directed energy. There are three types of electromagnetic launchers - railguns, coil guns and induction drivers. All involved the use of strong magnetic fields to push against projectiles.
"It's always good to talk about things in class and to show pictures, but to get them (midshipmen) standing next to the actual equipment they'll see at some point in their naval career - that pays huge dividends," said Cmdr. Ken Conley, a USNA instructor and former NSWCDD Engagement Systems Department Branch Head, who accompanied USNA mechanical engineering students throughout their visit.
The electromagnetic railgun - one of many highlights for midshipmen - is being developed for use on a wide range of ships, whether the vessel has an integrated power system, such as DDG 1000, or a non-integrated power system such as DDG 51.
"It's great to expose them to the future of weapons and get some hands on," said Lt. Cmdr. Todd Greene, a USNA naval weapons systems instructor who coordinated the Naval Academy's Nov. 19 trip to NSWC Dahlgren. "We've discussed railgun and different projectiles in class but we appreciate the idea of interfacing with the Navy Warfare Centers and learning more about technologies under development."
The midshipmen interfaced with scientists and engineers at the Integrated Warfare Systems Laboratory, saw the latest Human Systems Integration advancements, and tried technologies impacting the newest warships such as the littoral combat ship (LCS) for themselves.
For instance, midshipmen tracked imagery targets on the Surface Warfare Mission Module (SWMM) console as engineers explained how the system works.
The SWMM - a modular weapon system designed for littoral combat ships - will be utilized by midshipmen who become LCS crew members.
The SWMM replaces a traditional fixed weapon system that was typically permanently installed on ships such as the AEGIS DDG. The Gun Mission Module is an integral part of the LCS which will be used for counter-piracy, maritime interdiction and security missions.
The littoral combat ships - fast, agile, mission-focused platforms optimized for coastal missions - serve as the backbone of the Navy's future Fleet. Their modular design allows the ships to be tailored specifically for the mission at hand, allowing flexible solutions to deliver needed capabilities to evolving threats.
The Academy students also toured the Potomac River test range where naval guns have been tested since 1918. They saw how Dahlgren continues to provide the military with the technical capability and leadership to solve complex warfighting needs.
For example, the midshipmen saw the primary guns on the gun range, including the 5-inch, 62-caliber Mk 45 Mod 4 gun - used to evaluate new technology projectiles, propellants and firing controls - currently being installed on the Navy's Arleigh Burke-Class Aegis destroyers. They also observed the 30mm chain gun - a medium-caliber automatic cannon capable of being used in fighting platforms to include ground vehicle, naval and aircraft applications.
"Hopefully, a few of the midshipmen will be inspired by the visit to request an internship during their summer training period to a Naval Warfare Center site," said Dachos.
The Naval Sea System Command Warfare Center Enterprise is comprised of NSWC and the Naval Undersea Warfare Center (NUWC). With eight Surface Warfare and two Undersea Warfare sites across the United States, the Warfare Centers supply the technical operations, people, technology, engineering services and products needed to equip and support the fleet and meet the warfighters' needs.
The Warfare Centers are the Navy's principal research, development, test and evaluation assessment activity for surface ship and submarine systems and subsystems. In addition, the Warfare Centers provide depot maintenance and in-service engineering support to ensure the systems fielded today perform consistently and reliably in the future.