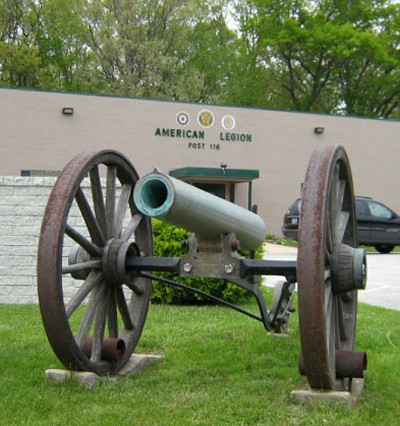 Oyster Cannon used on the Chesapeake Bay during the "oyster wars" of the 19th century. Shown on display in front of
American Legion Post 116 in Reisterstown
. (Photo courtesy Md. DNR)
ANNAPOLIS (December 09, 2011) — The Maryland Department of Natural Resources (DNR) is partnering with the Annapolis Maritime Museum to exhibit a historic cannon from now until June 2012. A relic of the Oyster Police of the 1800s, the cannon was used to protect the Chesapeake Bay's oysters during the "oyster wars" of the 19th century.
"We're delighted to partner with DNR to bring this amazing era of our history alive," said Jeff Holland, executive director of the Annapolis Maritime Museum. "To think that oysters were once so valuable, we needed artillery like this to protect them from pirates – that's astonishing! The cannon fits right in with our core permanent exhibit, Oysters on the Half Shell, which explores why oysters are so important to the health of the Bay and the lives of hard-working watermen."
The cannon was acquired by Hunter Davidson, the first Commander of the State Oyster Police Force, in 1868. It was installed on the original steam-powered patrol boat of Maryland's "Oyster Navy," the Leila. In 1884, this ship was replaced by the Governor R. M. McLane, which fought many spectacular battles against oyster pirates. The McLane was equipped with a 12-pound Dahlgren boat howitzer in 1888. While accounts are not definitive, authorities believe that this gun may have been the original cannon from the Leila.
DNR obtained the cannon in December 2010 from the American Legion Post 116, which owned it since the 1950s. The legion regularly loaned it to a group of Civil War re-enactors who took part in North-South Skirmish Association competitions. The Cannon was on display at the Delmarva Discovery Center in Worcester County from June through September 2011.
"This cannon signifies our State's commitment to protecting our valuable natural resources," said DNR Secretary John Griffin. "We are honored to make this piece of Maryland history available for all to enjoy."
For more information about the history of the cannon and the oyster wars, visit
dnr.maryland.gov/.../Oyster_Wars_Cannon.asp
.
For information about the Annapolis Maritime Museum, visit
www.amaritime.org
.
Source: Maryland Department of Natural Resources (DNR)