LA PLATA, Md. (December 06, 2011)—The Charles County Sheriff's Office today released the following incident and arrest reports.
OFFICERS OBSERVE SUSPICIOUS CAR AND RECOVER MARIJUANA: On Dec. 6 at 12:10 a.m., officers patrolling Kipling Drive in Waldorf observed a suspicious vehicle and initiated a traffic stop. Upon approaching the car, the officers detected the odor of marijuana. Officers found raw pre-packaged marijuana, a digital scale, a grinder and a large knife inside the vehicle. The occupants, Michael Somerville, 30, and Edmund Beyer, Jr., 25, both of Waldorf, were arrested and charged with possession with intent to distribute, possession of drug paraphernalia and possession of a concealed deadly weapon. Officer A. Fenlon made the arrest.
ROBBERY: On Dec. 5 between 5:50 a.m. - 6 a.m., the victim, 18, was walking in the area of Dorchester Lakes in Waldorf when he was approached by a male who displayed a handgun and demanded the victim's money and cell phone. The victim complied and the suspect fled. Officer P. Morgan is investigating.
REPORT OF SUSPICIOUS VEHICLE LEADS TO DRUG ARREST: On Dec. 5 at 12:50 p.m., officers responded to the 3000 block of Orangeman Square in Waldorf for the report of a man urinating on a car and throwing trash on the ground. Officers located the car and subsequently found a large amount of marijuana, approximately one ounce of PCP, one bag of tobacco laced in PCP and 40 Ecstasy pills packaged and ready for sale. The approximate street value of the marijuana recovered is $360.00; the approximate street value of the PCP recovered is $700.00; the approximate street value of laced tobacco recovered is $20.00 and the approximate street value of the ecstasy pills is $800.00. In addition, a digital scale, cigars, and rolling papers were recovered. The driver, Harry Lee Calloway, 39, of White Plains, was charged with possession with intent to distribute. Officer P. Morgan is investigating.
COMMERCIAL VEHICLE ENFORCEMENT: On Dec. 5, officers with the Traffic Operations Unit conducted a commercial vehicle enforcement operation on Billingsley Road in White Plains. A total of 10 trucks were inspected: 7 trucks were placed out of service for safety violations and 5 citations were issued.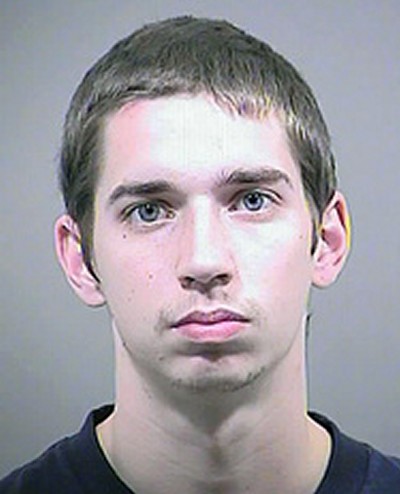 Timothy Randall Clark, 22, of Waldorf, was allegedly shoplifting video game-related items in a Wal-Mart while 50 Charles County cops were in the store helping needy children purchase Christmas presents as part of their Shop With A Cop program. (Arrest photo)
SHOPLIFTING ARREST: On Dec. 3 at 11 a.m., loss prevention officers at the Wal-Mart on Acton Lane observed a male in a back room cutting open several packages of video games and video game accessories. The suspect then stuffed the items inside his clothes and began walking toward the exit. CCSO officers, who were inside the store participating in the Shop With a Cop community program, were alerted and apprehended the suspect in the parking lot. Timothy Randall Clark, 22, of Waldorf, was found to be in possession of 26 Play Station and Xbox games, two controllers, and several other video game accessories which were concealed inside his pants and sweatshirt. The total value of the items recovered was $635.04. Clark was arrested and charged with theft.