LEONARDTOWN, Md. (December 02, 2011)—The St. Mary's County Sheriff's Office recently released the following incident and arrest reports.
PROTECTIVE ORDER VIOLATION: On November 30 at approximately 5:30 a.m., deputies responded to a residence on Chancellors Run Court in Lexington Park for a violation of protective order. Investigation revealed Nicholas Lee Bowen, 24, of Lexington Park, went to the victim's residence. An argument ensued and Bowen began using profanity toward the victim which is in violation of a protective order issued in July 2011 by the Circuit Court for Calvert County. Deputy Ross located Bowen a short time later. Bowen was arrested and charged with Violation of a Protective Order.
SECOND DEGREE ASSAULT: On November 30, deputies responded to a residence on Mayfaire Lane in Lexington Park for an assault report. Investigation revealed Kenya Emon Powell, 18, of Lexington Park, became involved in an argument with the victim which escalated when the suspect struck the victim in the shoulder with a closed. Deputy Kirkner arrested Powell and charged him with second degree assault.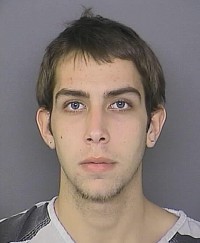 ARREST IN BURGLARIES CASE: During the month of October 2011, police units responded to several residences in the Lexington Park, California and Leonardtown area which had been broken into during the daytime hours and personal property was removed. The St. Mary's County Bureau of Criminal Investigations assumed the investigation into the burglaries. Following a month long investigation and the execution of search and seizure warrants, detectives arrested and charged Joseph A. Wilson, 23, of Waldorf, pictured above, with three counts of First Degree Burglary and three counts of Theft $1,000 to $10,000. Additional charges are pending following a review with the State's Attorney's Office. Wilson is currently incarcerated in the St. Mary's County Detention Center and has additional charges pending in Charles and Prince George's County, Maryland for similar crimes in those jurisdictions.
MOTOR VEHICLE COLLISION HAZARD MATERIAL SPILL: On November 30 at approximately 10:00 a.m., deputies responded to a single vehicle collision on Medley's Neck Road near Medley's Neck Lane. Preliminary investigation reveals a Burch Oil International 4900 truck carrying #2 fuel oil was traveling westbound on Medley's Neck Road. The truck exited the roadway onto the right should. It appears the driver over corrected. The truck then crossed the roadway onto the left should and over turned, expelling fuel. Eight mailboxes along Medley's Neck Road were damaged as a result of the collision.
Medley's Neck Road was shutdown to traffic. Leonardtown Fire Department and Charles County Emergency Services Hazardous Material Unit responded to the scene, along with Maryland State Police and Maryland State Highway units. The driver of the vehicle, Terry L. Starr, 58, of Great Mills, was flown to Med Star by Maryland State Police Trooper 7.
Deputy M. Green was the chief investigator.