By Len Lazarick, Len@MarylandReporter.com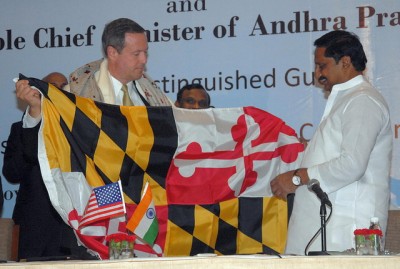 Gov. Martin O'Malley presents Maryland flag to Andhra Pradesh Chief Minister Nallari Kiran Kumar Reddy at signing of sister-state agreement. (DBED photo)
(November 30, 2011)—Gov. Martin O'Malley, talking to reporters via Skype from India's financial capital of Mumbai, on Tuesday strongly defended his six-day trade mission to the subcontinent.
"It would be economically irresponsible for us not to be engaged with India," O'Malley said.
Maryland officials and Indian importers signed agreements Tuesday to boost the exports and imports between the two countries, which have grown by 70 percent since 2005, according to Department of Business and Economic Development Secretary Christian Johansson, who is on the mission with the governor.
That moved India up from 18th to 11th place as a trade partner with Maryland.
"India will become one of our top five trading partners" in coming years, O'Malley said.
O'Malley said his Sunday stopover in Doha, Qatar, where he met with the amir and investment groups, was part of a long-term strategy to "forge a sister-state relationship with a Muslim country in the Middle East."
The governor also visited "big entities that make big investments," including Qatari Diar Real Estate Investment, which this year put $700 million in City Center on the former four-block site of the Washington, D.C., convention center.
"We would welcome foreign investment in Maryland," O'Malley said.
House of Delegates Majority Leader Kumar Barve, whose grandfather emigrated from Mumbai a century ago, said the Indians they met were impressed with the size and breadth of the Maryland delegation, which includes about 100 people.
Paying their own way
"No other state has put together so many people to pay their own way," Barve said. "The vast majority of the costs of this visit is being born by the participants."
That includes Barve, and freshman Dels. Sam Arora and Aruna Miller, all Montgomery County Democrats. O'Malley said he had bragged at least 20 times that the three delegates meant that Maryland has more Indian Americans than any legislature in the country.
About 75 members of the delegation are paying their own way, at a cost of $5,000 to $7,000 per person, according to travel firms making the arrangements.
Manish Kothari, president of Sheladia Associates Inc., a Rockville engineering firm, said he signed a $3.7 million deal Monday to provide design and project management for an Indian national highway.
"Gov. O'Malley's presence has helped us a lot," Kothari said.
Kothari has 135 employees in Maryland and does business in 20 countries. He said the lack of U.S. government involvement is striking compared to assistance he sees given firms from other counties.
Other deals announced since O'Malley arrived in Hyderabad Monday include one by Angarai, a Greenbelt management consulting firm specializing in project management, oversight and business transformation solutions. It signed an agreement with CI, a technology product development company based in Chennai, to pursue opportunities in mobile and web applications, potentially opening up an office in Maryland.
Other memos of understanding were signed involving biomedical equipment and a health hotline to be staffed by a call center in Prince George's County.
O'Malley has also given addresses to several Indian trade groups, and on Monday signed a sister-state agreement with the state of Andhra Pradesh, whose capital is Hyderabad. The governor is scheduled to sign another on Wednesday with the state of Maharashtra in its capital of Mumbai.
Johansson said that one reason to pursue overseas trade at this time is that "the export markets are growing faster than our domestic markets."
O'Malley said some of the objections to the trade mission raised by Maryland citizens reflect "a xenophobia wave that's going through our country."
Official Press Release from Governor's Office

GOVERNOR O'MALLEY MEETS WITH CHIEF MINISTER OF MAHARASTRA, JOINS MARYLAND BUSINESSES AS THEY INK DEALS IN MUMBAI

Maryland's Premier Rides, TripleStone and DSM announce agreements with Indian partners

MUMBAI, INDIA (November 30, 2011) – Governor Martin O'Malley today continued his India trade mission with a visit to Mumbai – the country's most populous city and one of the wealthiest – and joined the Chief Minister of Maharastra Prithviraj Dajisaheb Chaven for discussions to explore a Sister-State relationship, which would commit the two states to working together on business and industry, culture and arts and education and health. Governor O'Malley and Chief Minister Chaven also discussed a proposal for bilateral exchange of the sport of cricket via the Washington Metro Cricket Board (WMCB), important education initiatives at the post-secondary level, and how state officials might work together to promote a clean economy for the future. Following the meeting, the Governor joined Maryland businesses – Premier Rides and TripleStone Real Estate – as they signed collaborative agreements with companies in India. A third Maryland business, DSM Nutritional Products, announced a renewed partnership with an Indian company this week.

"By committing to explore a Sister-State relationship with the State of Maharastra – one of India's most prosperous regions – we are opening new doors for trade and investment, creating a cultural bond, sharing best practices on education, and working toward a cleaner, more sustainable future for our children," said Governor O'Malley. "These three business deals today will help us create jobs and expand opportunity so Maryland can compete in the global marketplace."

"The Maryland Sister States Program looks forward to welcoming our friends from the State of Maharashtra and thanks its leaders for their willingness to explore a partnership with Maryland," said Secretary of State John P. McDonough. "We believe that the citizens from both states would benefit from this relationship moving forward." A Sister State Committee to explore a relationship with Maharastra will be headed by Dr. Nayan Shah, a physician from Southern Maryland.

"The U.S. and Foreign Commercial Service is pleased to support Governor O'Malley's mission to India," said Bill Burwell, Director of the U.S. Export Assistance Center, Maryland. "Over the past several months, we have worked with Governor O'Malley's staff and the Maryland Department of Business and Economic Development to help Maryland companies expand their business in India and to bolster the state's efforts to attract investment from India into Maryland. This mission is the culmination of our efforts."

TripleStone Real Estate, a real estate development and management company based in National Harbor with hotel, retail, residential, and commercial projects throughout the Washington D.C. area, signed a Memorandum of Understanding with Shree Naman Group of Mumbai to partner on potential hospitality and medical office projects in the Brandywine area of Prince George's County. A second signing was between Premier Rides, a Baltimore-based theme park ride manufacturer, and Mumbai-based Adlabs Entertainment LTD, which is planning to build a theme park in India. Premier Rides will design and manufacture a custom theme park attraction that will employ the very latest technologies and provide a one-of-a-kind experience. The company will use an ExportMD grant from the Maryland Department of Business and Economic Development to assist with exporting the thrill ride to India.

"I am extremely pleased to have the opportunity to bring to India what will be the most high tech ride in the country," said Jim Seay, president of Premier Rides. "India's dynamic economy is setting a standard for growth and expansion and we are proud to be part of a vision for a world-class entertainment destination."

"This investment is a testament to Maryland's pro-business environment and strong leadership who understand the needs of the business community," said Raj Patel, CEO of TripleStone LLC.

In addition, DSM Nutritional Products, a leading supplier of nutritional lipids, vitamins, carotenoids and other fine products to the food, feed, pharmaceutical and personal care industries, announced this week its renewed partnership with Bangalore-based British Nutritions, a subsidiary of British Biologicals and a pioneer in the Indian nutraceutical industry since 1988, for the use of DSM's life'sDHA™, vitamins and nutraceuticals in the fortification of existing and new brands of British Nutritions. Currently on the market are British Nutritions' Pro-PL protein supplement for pregnant and lactating women and Kids-Pro Nutrition Drink, both fortified with life'sDHA, a vegetarian source of DHA omega-3 important for brain, eye and heart health throughout all stages of life. DSM and British Nutritions will continue their partnership to develop a range of new innovative products with life'sDHA and DSM's vitamins and nutraceuticals.

"We are thrilled to be working with such an esteemed Indian company and believe that our strong and growing partnership with British Nutritions demonstrates DSM's commitment to expanding our presence in the Indian market," said Bruce Brown, a member of Governor O'Malley's Indian delegation and director of perinatal and nutritional supplements at DSM Nutritional Products in Columbia, Maryland.

Earlier today, Governor O'Malley toured the Convention on Pharmaceutical Ingredients, one of the largest pharmaceutical shows in India, and participated in the inauguration of the Lupin Pharmaceuticals pavilion, a company that has a large presence in Maryland. The Governor also delivered a keynote speech and helped cut the ribbon at a ceremony to open the first Women in Bio chapter in India, an organization founded in Maryland a decade ago to promote leadership and entrepreneurship among women in life sciences.