By Glynis Kazanjian, Glynis@marylandreporter.com
Health Secretary Joshua Sharfstein will try to explain to the Senate Finance Committee Wednesday how the Developmental Disabilities Administration left $38 million unspent over the last two years while 6,500 patients sit on a waiting list for state funding.
None of those with disabilities or their caregivers are scheduled to testify at tomorrow's hearing, but they are planning to give Sharfstein and DDA Director Frank Kirkland a piece of their mind at a town hall meeting that evening in Severna Park.
Most of the caregivers and advocates for the disabled were angry and upset after MarylandReporter.com
reported about the unspent money
three weeks ago, a surplus that forced $25 million in potential state aid to be reverted to the general fund.
We spoke to three of the affected families. Here are their stories.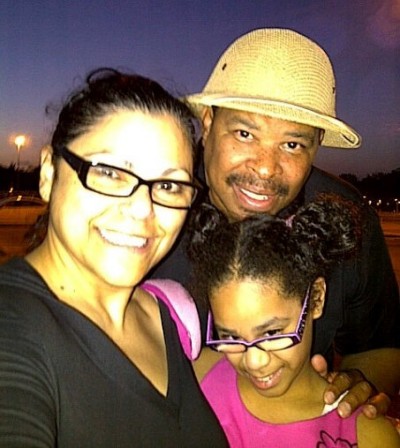 The Rodriguez family: Norma, Manuel and Gabriela.
Gabriela Rodriguez
Norma Rodriguez of Bowie has a 10-year-old daughter with cerebral palsy and multiple developmental disabilities. Her husband has stage four prostate cancer. The daughter Gabriela has been on the DDA waiting list for six years.
"When I learned that tons of money was sent back to the state, I was furious," Rodriguez said.
Rodriguez works full-time while her husband Manuel stays at home, but she said her husband's medication makes him tired, and it is hard for him to take care of his daughter when she comes home from school.
Rodriguez said she would use DDA funds to help pay for speech therapy for Gaby and for respite care.
"My daughter is non-verbal." she said. "A caregiver could help with her meds. She is very smart, but you have to watch her every minute. She is 10, but has the mind of a five-year-old. She doesn't understand danger."
Rodriguez pays $10,000 a year for health insurance and a little more than $5,000 a year for needs associated with Gaby's health problems, like a special nutrition drink and speech therapy that is not covered by county school aid.
The Rodriguez's were placed in the highest category, "Crisis Resolution," on the waiting list. But after an agency evaluation of the list, known to insiders as the "clean-up," the Rodriguez's lost their priority status and were bumped down a category, to "Crisis Prevention."
Rodriguez said the downgrade was due to listing her husband as the primary caregiver. She appealed, but her request was denied last August. Rodriguez asked her employer if she could work from home two days a week, and the request was approved. "My boss is a cancer survivor and understands."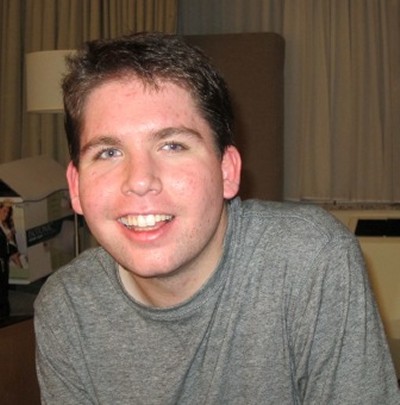 Alex Gordon.
Alex Gordon
Renee Gordon of Carroll County has a son, Alex, 19, who is "profoundly autistic." He has been on the DDA waiting list since 2006.
He cannot speak, requiring a voice output device, and has many autistic traits, she said. He prefers to be alone, requires a strict routine, and is unable to take care of himself. He can't shave, brush his teeth or go to the bathroom independently.
Gordon, who works full-time along with her husband, said she thought the news of unspent DDA funds was terrible.
"We've never gotten any services from DDA, never, just placed on that waiting list, and this is a child who requires 24/7 coverage," Gordon said. "Finding somebody to come and work with a 19-year-old, who can't really even wipe himself . . . We have a caregiver that costs $35,000 a year."
Gordon said her family used to receive $2,000 a year from "Rolling Access" funds, but several years ago the program was discontinued. They used the funds for respite care, mainly to send Alex away to weekend camps during the summer, which provided them with "a much needed break."
Gordon said the funds were brought back because of a community outcry, but the $2,000 annual benefit changed to a $2,000 life-time benefit.
"The funds are now capped. Where it was very easy to get them before, now it's impossible," she said.
Gordon said her son was originally placed in the second tier on the waiting list, but was downgraded when DDA reevaluated the list in 2010. He is now in the lowest category, "Future Needs."
"We had to a hire a lawyer to see what they could do to challenge Alex's adjusted status," Gordon said. "We talked to DDA to let them know we hired a lawyer and then they moved him back up to where he originally was. Nothing had changed on their end. That's when I knew they weren't really using a standard criteria – it was my screaming and legal threat that got him moved back up."
Gordon, who is a lawyer, said the re-evaluation of the waiting list moved a lot of people out of "Crisis Resolution" and into "Crisis Prevention," a change only done to make the agency look better, she believes.
"They cooked the books," she said. "It's no different than an accountant moving things around from one category to another."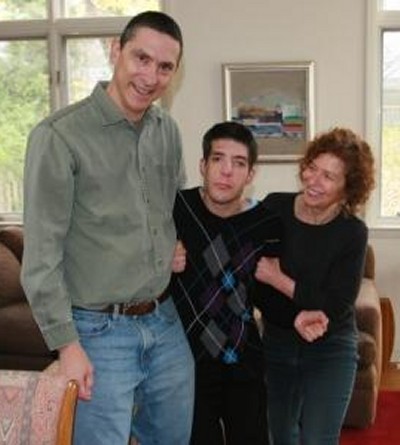 Andrew Mitz, David Mitz and Carol Fried.
David Mitz
Carol Fried and Andrew Mitz of Kensington have been taking care of their son David, who has a rare genetic syndrome related to autism, for 24 years. He is non-verbal and does not sleep through the night. He needs help with feeding, personal hygiene and he doesn't understand change, they say.
When David turned 14, Fried placed him on the DDA waiting list for support services. He sat on the list for six years.
It wasn't until Fried found herself at a breaking point that the state placed David in the "Crisis Resolution" category on the waiting list, although it took seven months after Fried's initial contact to begin receiving services.
"What was happening in our home was overwhelming at the time. We were falling apart," Fried said. "It was Andy and I doing it all during the years – we took care of him 24/7. He needs help with everything."
Fried finally got help from the state when David turned 20. Through respite services, a caregiver came to the house two hours a day during the week and three hours a day on the weekends.
At 24, David was placed in a group home. Fried says now she is worried about the sustainability of the program.
"It's very scary. As I age, I think about not being here. I worry about what's going to happen to David if he's not cared for or safe," Fried said. "The direct support staff is the back bone of the community. The people that work with David are really professional, devoted and intuitive, but they're at a very low income and wages haven't been increased for years. That makes for a high turnover."
David's father said despite how tough it was to raise his son for 24 years, the deepest emotion he harbors now is fear for his son's future.
"So much of David's happiness hinges on bonding with these special people. He cannot talk, write, or use an iPad to communicate to signal his feelings," Mitz said. "When I think about David, I think about his total dependence on a caregiver system that is woefully underfunded. Safety, health and happiness – that is what I want for David. They all depend on the care-giving system."
Hearing will focus on how funding was left over and how to get it back

Senate Finance Committee Chairman Thomas "Mac" Middleton said Wednesday's hearing about the millions unspent on the developmentally disabled will seek to find out from Health Secretary Joshua Sharfstein "what happened that the money wasn't completely used up and what Dr. Sharfstein's plans are."

"All of us are very confident that the secretary is going to give it his full attention," Middleton said.

On Nov. 9, MarylandReporter.com reported that $38 million in DDA funds went unspent over fiscal years 2010 and 2011. Bookkeeping maneuvers inappropriately assigned unspent funds to previous fiscal years, rather than using them to restore budget cuts or take people off the DDA waiting list. Once the overages were discovered, $25 million in state funds had to be returned to the state general fund. The $12 million in federal funds could be rolled over.

The state funds can be only be restored by Gov. Martin O'Malley.

"Maryland has a responsibility to ensure that services for citizens with developmental disabilities are properly funded," said Laura Howell, executive director of the Maryland Association of Community Services and chair of the Maryland Developmental Disabilities Coalition. "That is currently not the case, which is why we are urging the governor to restore the unspent funds and reverse the painful budget cuts that were inflicted in FY 10."

Currently there are 6,500 Maryland residents on the DDA waiting list, 107 of them considered to be in critical crisis mode. Another 2,700 are on a future needs waiting list, which lets the state know how many people anticipate needing support services three years out.

Developmentally disabled persons are children and adults with Down syndrome, cerebral palsy and autism. DDA is the primary state agency that provides funding for support services, with a 50% match from the federal Medicaid program. Federal funding for schooling is provided through the Individuals with Disabilities Education Act.

"There are two critical components of funding of developmental disability services—resources to meet the needs of people on the DDA Waiting List, and resources to ensure that services that are provided are safe and high-quality," said Howell. "Maryland has fallen short on both parts."