LA PLATA, Md. (November 21, 2011)—The Charles County Sheriff's Office released the following incident and arrest reports.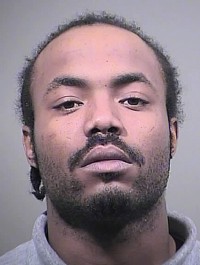 FUGITVE WANTED: The CCSO is trying to locate Deante Mandell Duckett, 26, of Brandywine (pictured at left). He has two outstanding warrants including first-degree burglary and possession with intent to distribute narcotics. Duckett is 5'10, has a medium build and a scar on his right eye and left hand. Anyone with information about Duckett's whereabouts should call the CCSO at (301) 932-2222.
ATTEMPT THEFT: On Nov. 17 at 3:45 a.m., officers responded to the 2900 block of Halifax Street in Waldorf after a car owner interrupted a theft in progress. The victim heard a noise coming from his driveway and as he investigated, he observed two people removing the tires from his truck. He hit the panic alarm on his key fob which scared the suspects away. They fled in a pick up truck. Later, in an incident which may be related, officers were called to the 2900 block of Morning Dove Place where the homeowner discovered a set of tires had been stolen from his car overnight. Charles County Crime Solvers is offering a cash reward for tips leading to the arrest and indictment of the suspects. The Criminal Investigations Division is investigating.
RECKLESS ENDANGERMENT: On Nov. 16 at 4:20 p.m., officers responded to the 3800 block of Light Arms Place in Waldorf for the sound of gunshots. Witnesses indicated the suspect drove up to a group of people who were standing outside and asked for a person by name. At that point the person he was looking for walked up and the suspect fired two shots. No one was struck but the round hit a house and lodged in a closet. No one was inside the house. Officers located the car a short time later and identified the occupants. The investigation is ongoing.
BURGLARY: On Nov. 16 between 7 a.m. - 11:49 a.m., unknown suspect(s) broke into a house in the 200 block of Stoddard Avenue in Waldorf and stole game systems, a long gun and money. The scene was processed and possible evidence was recovered. Pfc. R. Bagley is investigating.
THEFT OF MOTORCYCLE: On Nov. 15 between 12:30 p.m. - 3 p.m., a motorcycle was stolen from the parking lot of a building in the 3000 block of Orangeman Square in Waldorf. PFC Sershen is investigating.
BURGLARY: On Nov. 15, a homeowner reported the theft of a motorcycle, scooters, a bike and power tools from a shed in the 4600 block of Duley Drive in White Plains. PFC J. Rager is investigating.