Orange Wireless Network Opens in Prince Frederick
Orange Wireless Network (OWN), recently opened in Prince Frederick, now offers Southern Marylanders an alternative to typical cell phone service.
OWN provides inexpensive monthly service plans with no contracts and unlimited talk, text and Web service for $50 per month along with corporate discounts. Owner Jon Glass says, "We offer what nearly every consumer wants – good phone service and low unlimited monthly plans on a nationwide network."
The store carries Bluetooth devices, accessories, Android phones and, for businesspeople, dual SIM card phones that allow two phone numbers on one phone. OWN is also the only carrier that allows iPhone purchases without a contract.
OWN offers a unique monthly residual fundraising program that can provide financial assistance to clubs, schools or other organizations simply by using its nationwide cell phone service. "This is a way to fund projects, camps, tournaments, uniforms and equipment all year long," says Glass. "It's a dedicated program that gives a percentage of our profits to support the financial needs of our community and that's something I'm really proud to offer."
For more information on Orange Wireless Network, call 410-535-1185, email support@own-pcs.com, visit online at www.own-pcs.com/ or visit the store at 150 West Dares Beach Road, Prince Frederick, Md. Store hours are Monday through Friday, 11 a.m. to 8 p.m.; Saturday, 10 a.m. to 6 p.m.; closed on Sunday.
Barefoot Graphics Expands Offerings with Direct-to-Substrate Wide Format Printer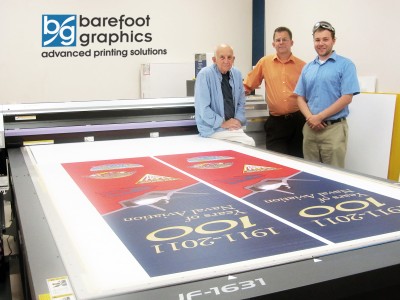 Barefoot Graphics' newly acquired UV flatbed printer after having completed 300+ double sided pole banners for the 100 Yrs. of Naval Aviation celebration. (Pictured L to R - Harry J. Frauenfelder III, Harry J. Frauenfelder IV, and Harry J. Frauenfelder V "Josh")
Barefoot Graphics has further expanded its reach into wide-format print markets with its acquisition of a new UV-curable flatbed inkjet printer manufactured by Japanese-based Mimaki Engineering Co.
According to Harry Frauenfelder, President of Barefoot Graphics, "It is clear our wide-format department is expanding. We have had our sights on UV Flatbed technology and the day to bring this technology to Barefoot Graphics has come. We specifically chose a printer that would meet the speed, quality and size demands of our customers."
The newly acquired UV printer is capable of printing directly onto numerous rigid substrates, exceeding dimensions of 5'x10' and up to 2" thick. Utilizing a 6-color ink set plus white ink, the printer produces bright, vibrant colors on all types of substrates, including, but not limited to: acrylic, PVC, vinyl, aluminum, corrugated plastic, wood, fiberglass and foam. The ink is instantly cured via dual UV lamps, enabling immediate handling and packaging. With a maximum resolution of 1200x1200 dpi, the image quality produced is near photographic, suitable for indoor/outdoor sign and display graphics for both far and close viewing distances.
"This is such an exciting time at Barefoot Graphics," says Josh Frauenfelder, Vice President and General Manager. "The businesses and organizations of Southern Maryland now have access to a vast range of visual display possibilities and indoor/outdoor sign applications. By choosing a flatbed printer that is capable of printing white ink, we are now printing on clear, colored and metallic substrates such as glass and brushed aluminum. Barefoot Graphics is achieving a more efficient workflow and our customers are benefiting from a higher level of quality and local service."
In the upcoming months, more UV-printable products will be added to their e-commerce website, www.BarefootGraphics.net. In the meantime, all sample requests and estimates wishing to utilize UV printing should be directed to Mr. Josh Frauenfelder who may be reached at 301-862-5157 x114 or emailed at Estimating@BarefootGraphics.net
Chesapeake Pet Resort Introduces New Groomer and Receives USDA Certification for Animal Transport
Chesapeake Pet Resort & Day Spa (Chessiepets) in Hollywood announced that Cathy Martin has joined their team as Professional Pet Groomer. A graduate of the Maryland School of Dog Grooming, Cathy has over 20 years of professional experience.
Chessiepets was also recently recertified by the USDA as an Intermediate Pet Handler for their pet transportation and airport pet shipping operation. Services offered include a local pet taxi, airport pet pick-up or transport to airport, national and international pet shipping, and cross country pet taxi.
Chesapeake Pet Resort and Day Spa is located at 26120 Jones Wharf Road in Hollywood. For more information, visit www.chessiepets.com.