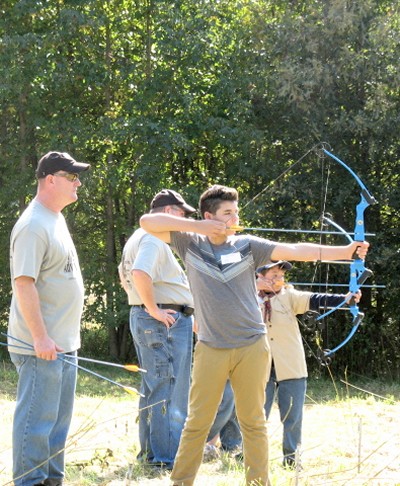 Volunteer Rich Walker (left) instructs Alec Cabrera (right foreground) in the finer points of archery at the seventh annual Wildlife Adventure Day in Newburg, Charles County. (Submitted photo)
NEWBURG, Md.—Over 65 children participated in the seventh annual Wildlife Adventure Day sponsored by the Charles County 4-H, Southern Maryland Chapter of the National Wild Turkey Federation, Coca-Cola of La Plata, Copper Threads, Maryland Department of Natural Resources, and GenOn Energy, which hosted the event at its McGregor Farm located on Route 257 in Newburg on Saturday, October 8.
Wildlife Adventure Day is open to youth from ages 8 to 16 and provides a hands-on, outdoor learning experience. Youth are instructed on the importance of wildlife habitat, conservation, and preservation of our natural resources. And, older youth compete in the Extreme challenge consisting of 3-D archery, sporting clay, and a turkey shoot with a grand prize of a Maryland goose hunt. This year's winners of the goose hunt are: Caitlin Nutter, Tyler Shirley, Trevor Earnshaw, Travis Earnshaw, Jeremy Parisi, and Jeff Stine.
Volunteer Danny Estevez, retired wildlife biologist, asked everyone participating in his Wildlife Habitat and Stream Identification program to "turn on your observation skills." Tom Gilroy and his brother, Sam, who both attend Mt. Hope/Nanjemoy Elementary School, did just that-correctly identifying deer tracks in the forest floor, an oak tree, and other habitat essentials. When examining the farm crop next to the forest, the kids challenged GenOn Energy, the owner of the land, to extend an additional 50 feet of grasses and natural shrubs from the edge of the forest to the start of the farm crop, thereby maximizing the potential for wildlife habitat. This natural progression from forest to edge grasses to crop will provide habitat cover and nesting spots for animals, such as quail and rabbit. GenOn Energy accepted the challenge and plans to showcase the improved habitat cover at next year's Wildlife Adventure Day.
Lewis Woodward and Alec Cabrera, both eight graders at Milton Somers Middle School in La Plata, were first-time participants at the event. "It's been pretty cool," said Alec, "I will definitely tell my friends about it next year." When asked about his favorite activity so far that day, both exclaimed "archery." We thank the Tri-County Archery Club for their support providing instruction to this pair of outdoor enthusiasts.
Other activities during the day included making decoy carvings and bird boxes, fish species identification using a dichotomous key, turkey calling, casting, air rifle skills, and hunting dog obedience. Demonstrating with Rascal, volunteers Fred Perini and Mike Bullinger explained to the kids that a well-trained retriever is the best "conservation in the field" ensuring a responsible hunt and sustainable wildlife management-not to mention a hunter's best friend.