By John J. Joyce, NSWC Dahlgren Division Corporate Communications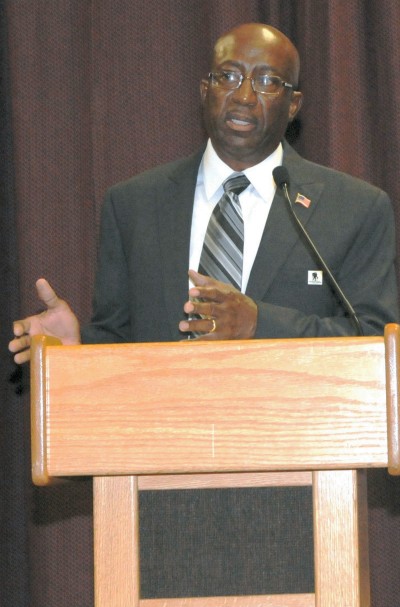 Levi Cary, a Native American and Vietnam veteran, speaks to military members and civilians attending the National Native American Heritage, Veterans' Day Observance, and Wreath Laying ceremony at the Naval Support Facility Dahlgren Nov. 4. Cary said he learned the importance of "honor, courage and commitment" as a child from stories told by Mattaponi Indian Reservation Chief Curtis Custalow - a descendent of the tribesmen who met the European settlers at Jamestown. (U.S. Navy photo by Kimberly Brandts)
DAHLGREN, Va. (November 10, 2011)—A Vietnam veteran captivated military, government civilian and defense contractor employees with stories of "honor, courage and commitment" at a Native American Heritage and Veterans' Day observance here Nov. 4.
The event's keynote speaker, Levi Cary, told observers gathered in the Aegis Training and Readiness Center auditorium that his survival in Vietnam and his successful life and career stemmed from sources that included native American values passed on to his family.
"The right attitude is the key to survival," said Cary as he recounted his years supporting the 52nd Infantry in Vietnam.
Cary, a leader in government civil rights and wounded warrior programs, credits his positive attitude in the face of challenging and daunting circumstances with the values he learned as a child while listening to the stories of Mattaponi Indian Reservation Chief Curtis Custalow - a descendent of the tribesmen who met the European settlers at Jamestown.
The Virginia-based Mattaponi tribe's history passed down from generation to generation not only taught Cary about his American Indian descendants, it taught him about the importance of three major words the U.S. Navy follows to develop positive relationships with people, countries, and governments - honor, courage and commitment.
The former aircraft mechanic, however, spoke candidly about the temptations that he and multitudes of servicemen and women have experienced in war zones. For example, Cary acknowledged that he "gave in" to cigarettes and alcohol before summoning all his will power and "left it in Vietnam."
Cary, who retired from the Virginia Department of Transportation as the Division Administrator for Civil Rights, asked the Dahlgren audience to do what they can to support all veterans.
"Whether they served forty years ago or are just returning from Iraq or Afghanistan - what they experienced is still with them," said Cary.
With the approach of Veterans' Day on Nov. 11 - Dahlgren's military leaders joined Cary and all in attendance to honor U.S. veterans with a wreath laying ceremony to mark the upcoming commemoration of Veteran's Day.
"At NSWC Dahlgren, veterans represent an important segment of our workforce," said Naval Surface Warfare Center (NSWC) Dahlgren Division Commander Capt. Michael Smith. "Their military background, including for many, their combat experience - provides critical, real-time problem-solving capability that translates into expertise in finding solutions for today's warfighters. Like the many veterans we honor today and on Nov. 11, we are committed to protect our homeland, our freedom, and our way of life by stopping the forces of terrorism."
The nation's celebration of American Indian and Alaska Native Heritage in November spans the cultures, histories and traditions of the indigenous peoples of North America, including parts of Alaska and the island state of Hawaii, and recognizes the significant contributions these first Americans made to the establishment and growth of the United States.
"Across our Navy and our Warfare Centers, Native Americans are proving how inclusion of many experiences, talents, and viewpoints are essential to the Navy's mission and operational readiness," said Smith.
In addition, Capt. Smith pointed out that:
-- Native Americans served proudly and distinguished themselves during the World Wars, Korean conflict, Vietnam, Persian Gulf, Operations Enduring Freedom and Iraqi Freedom. Currently, more than 15,000 active duty, reserve, and civilian members of the Navy Total Force declare themselves American Indian or Alaska Native. Their high values of honor, truth and brotherhood resonate with our Navy Core Values: Honor Courage and Commitment.
-- Across our Navy and our Warfare Centers, Native Americans are proving how inclusion of many experiences, talents, and viewpoints are essential to the Navy's mission and operational readiness.
-- The area we now know as Pumpkin Neck, for example, was once part of the tribal holdings of the famous chief Powhatan, who oversaw the warriors occupying the Northern Neck of Virginia.
-- According to stories passed down to local descendents, the Patawomecks—members of Powhatan's tribal federation - carried food to Jamestown settlers. The grains, vegetables and game they provided were critical to the survival of our early colonists.
-- Today, Virginia is still home to several Native American tribes whose customs and celebrations have been passed down to enrich the life of all of us. Eight organized tribes and two reservations are currently recognized in Virginia.
-- There are 2,500 people on the tribal registers, and the census figures show another 15,000 people of Indian ancestry living across Virginia. Two tribes, the Pamunkey (Pa MUN Key) and the Mattaponi (Matt a po NI), have reservations within 60 miles of Dahlgren in King William County.
"We honor those last survivors of the Great War, World War II, as well as those who served during the tense standoff of the Cold War," concluded Smith. "We remember those who walked in the jungles of Vietnam and served in Korea and other conflicts in faraway places around the world. And of course we are very aware today, that service means multiple tours to Iraq and Afghanistan on active duty or as reservists and Guard members who sacrifice twice when they give up their civilian jobs in order to serve our country."