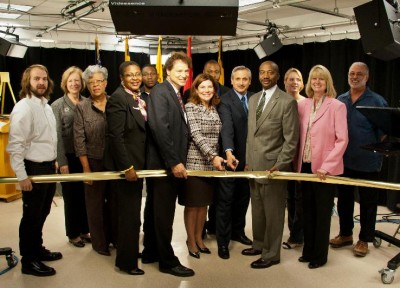 The Charles County Commissioners and County Administrator Dr. Rebecca Bridgett (second from right), along with CSM President Dr. Bradley Gottfried (fifth from right), CSM Board of Trustees member Dorothea Smith (third from left), and CSM students and staff to cut the ribbon marking the opening of a public access studio at the College of Southern Maryland's La Plata campus. (Photo: Valerie Nyce, CSM)
LA PLATA, Md. (November 10, 2011)—The Charles County Commissioners celebrated the grand opening of a new public access television studio that is now open for use by Charles County residents and College of Southern Maryland (CSM) students.
The Charles County public access television station will provides residents the training and the tools to create non-commercial television programming that expresses their viewpoints and perspectives to the community at large. The programs will be aired on Comcast cable channel 99 and Verizon cable channel 11.
"Public access television can open doors to new audiences that local government programming may not reach otherwise," said Commissioner President Candice Quinn Kelly. "We are pleased that our citizens will now be able to share in using the public access channel to broadcast community-interest programs."
"One of the top goals of the Commissioners is to increase the availability of public interest programming in Charles County," said Commissioner Vice President Reuben B. Collins, II (District 3). "We anticipate that this public access station will be a vital community catalyst and forum for the exchange of ideas, a platform for diversity of information and opinions for the benefit of all."
Charles County Government provided $250,000 to CSM for the construction and equipping of a studio, control booth, and editing rooms to be used for the public access channels and for CSM's academic program in broadcasting. The facilities are located on CSM's La Plata campus, in the Francis P. Chiaramonte, M.D. Center for Science and Technology (ST Building).
"CSM is an ideal location and has the capacity to effectively and efficiently operate the county's new public access studio," said Kelly.
CSM offers an Associate of Arts degree in digital media production that teaches students to formulate, construct, and deliver digital audio, video, broadcast graphics and animation. Students in the digital media production degree program will utilize the new public access station facilities to enhance their learning experience.
Source: Charles County Government