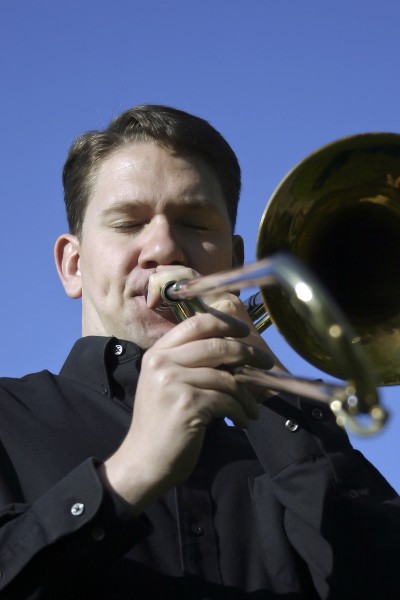 Airforce Airmen of Note trombonist Ben Patterson and his jazz quartet will perform for the Ward Virts Concert Series at 3 p.m., Nov. 13, College of Southern Maryland, Prince Frederick Campus, Room 119, 115 J.W. Williams Road, Prince Frederick.
LA PLATA, Md. (November 8, 2011)—The College of Southern Maryland welcomes trombonist, Ben Patterson, accompanied by his jazz quartet, to perform at the Ward Virts Concert Series at 3 p.m., Nov. 13 at the Prince Frederick Campus, Room 119. Patterson's performance is the second of six in the concert series, which is held at CSM's Prince Frederick Campus, 115 Williams Road, Prince Frederick.
Patterson is one of the most in-demand trombonists in the Washington D.C area. An Oklahoma native, Patterson received a bachelor's degree in jazz studies at the University of North Texas. While there he was a member of the One O'clock lab band with whom he played lead trombone and toured Japan and Hong Kong.
Upon graduation, Patterson became a free-lance musician with groups such as Pete Peterson's Collection Jazz Orchestra, the rhythm and blues group "Lyndi and the Look" and his own group, "Master Plan," with which he produced his first CD. He won an audition with the Airmen of Note in 1997 and began playing in Washington, D.C. for the United States Air Force.
Patterson is the lead trombonist for the Alan Baylock Jazz Orchestra, and is a member of D.C.'s salsa and Latin jazz group, "Sin Miedo," and the rhythm and blues group, "Time Machine." Patterson's first CD as a leader, "The Prowl," was released in 2004.
Throughout his musical career Patterson has performed with numerous artists including Slide Hampton, Joe Lovano, John Hendricks, Dick Oatts, Jiggs Whigham, Pancho Sanchez, Pat Marino, Bill Watrous and many others.
For this performance Patterson will be joined by Wade Beach on piano, Paul Henry on bass and David McDonald on drums.
The Ward Virts Concert Series is presented by Edward and Patricia Mehosky, St. Clair and Mary Tweedie, Gerry Van De Velde and Rene Cunningham and CSM. The centerpiece of the concert series is a world-class Boesendorfer Grand Piano, which was gifted to CSM by the Ward Virts Piano Project as a gift to the entire community.
The WVPP was formed by friends and classmates of pianist Ward Virts, whose sudden death in 1993 inspired them to purchase this hand-made piano and dedicate the piano to CSM Prince Frederick Campus in Ward's memory. Inspired by Ward's life and spirit, his friends and classmates conceived the project in order to bring the love of life, beauty and music that Ward embodied to a new generation of Southern Maryland students, performers and appreciative audiences.
Admission is free and seating is open but limited. Contact 443-550-6011, rfleming@csmd.edu or
www.csmd.edu/Arts
.
CSM's campuses are accessible to patrons with disabilities. Audio description for the visually impaired and sign language interpretation for the hearing impaired are available with a minimum two weeks advanced notices. If you are interested in these services, please contact the academic support/ADA coordinator at 301-934-7614.