LEONARDTOWN, Md. (November 8, 2011)—The St. Mary's County Bureau of Criminal Investigations (BCI) Narcotics Division released the following incident and arrest reports. The Division is an investigative team comprised of detectives from the St. Mary's County Sheriff's Office, Maryland State Police Drug Enforcement Division, and Federal Drug Agents (HIDTA Group 34). The Division was established on September 1st, 2007 and is based in St. Mary's County.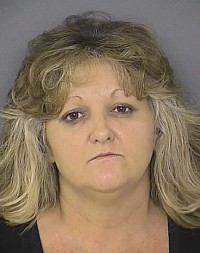 ARREST FOR DRUG SALES: Vice narcotics detectives received information that suspect Betty Lou Mason, 42, pictured at left, was distributing cocaine, pills and marijuana from various locations throughout St. Mary's County. Detectives conducted a two month investigation that included undercover purchases of cocaine. Search warrants were obtained for Mason's person, a related vehicle, and her Lexington Park home. As detectives observed Mason and prepared to execute the warrant on her person, she was seen conducting a drug transaction. She was detained and the search revealed cocaine on her person. Suspect Alphonzo Berry, 49, of Piney Point, was detained and cocaine as well as a straw with cocaine residue were recovered. The search warrant on Mason's home led to the recovery of cocaine, marijuana, a scale, cash and a handgun. Arrested at the home was Charles Darnell Mason, II, a/k/a "Lil Man," age 20. Additional charges are pending against Betty Lou Mason, her son Charles Darnell Mason and Alphonzo Berry after the case is presented to the State's Attorney. The investigation is continuing.
ADDITIONAL CHARGES FOR ALLEGED DRUG DEALERS: Suspects Dwight Mclendon and Quintel Deyon Wyatt, both of Detroit, Michigan were charged with additional charges stemming from a drug investigation that concluded in Park Hall several weeks ago. Mclendon was charged with two counts of distribution of heroin and possession with intent to distribute heroin. Wyatt was charged with Possession of Heroin with the Intent to Distribute. Both suspects were originally held without bond.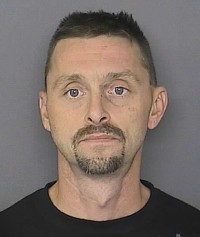 DRIVER ARRESTED AFTER SHOOTING OXYCODONE: Vice narcotics detectives observed suspect James Thomas Jones, 38, of Hollywood, pictured at left, seated in the drivers seat of a vehicle in a parking lot in Mechanicsville consuming a substance intravenously. Jones was "shooting" Oxycodone and was immediately taken into custody by detectives before he could get back onto the roadway. Pills, used syringes, and other items of evidence were recovered. He was charged and his bond status is unknown at this time.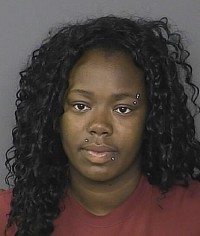 ARREST FOR POSSESSION OF COCAINE AND MARIJUANA: Vice narcotics detectives obtained information regarding drug activity in a Lexington Park neighborhood. The investigation led to a search and seizure warrant being executed on the home. Suspect LaToya Nacole Woodland, 24, of Lexington Park, pictured above left, was arrested after cocaine and marijuana were recovered. Additional charges are pending a review with the State's Attorney's Office.
BUSTED TRYING TO PASS DRUGS TO PRISONER IN COUNTY JAIL: The St. Mary's County Sheriff's Office Detention Center staff and vice narcotics detectives conducted a joint investigation after information was received that there was going to be a delivery of contraband at the facility. Suspects Samantha Lynn Becker, 20, and Patrick Daly, Jr., 21, both of Mechanicsville, arrived in the area of the Detention Center and began to act suspiciously. Suspect Daly approached the window in an attempt to pass straws filled with tobacco and marijuana to an inmate. He was taken into custody by detectives. Additional supporting evidence was located inside Becker's vehicle and it was seized. Becker and Daly were charged accordingly, as was inmate Antwaun Marquis Somerville (Becker's boyfriend). Inmate Somerville is currently incarcerated for Possession with Intent to Distribute Marijuana, handgun violations, Assault Second Degree, and Failure to Pay Child Support.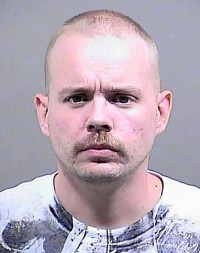 GRAND JURY INDICTMENT: Jack Davis Morgan, 32, of California, pictured at left, was served an open Grand Jury Indictment as a detainer after he was arrested in Charles County. St. Mary's County vice narcotics detectives presented several cases to the Grand Jury related to Morgan passing a fraudulent prescription for Oxycodone and attempting to obtain Oxycodone by fraud.