MDE takes precautionary measure to safeguard oyster industry and protect public health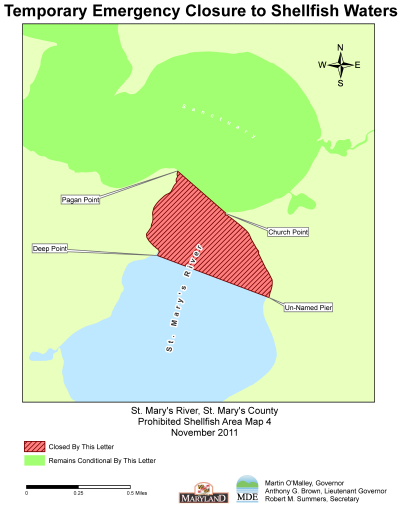 Map shows area in St. Mary's City where shellfish harvesting has been suspended. State officials fear potential water contamination could be caused by the cruise ship docked to provide temporary dorm space for SMCM students. Officials say this is a "precautionary measure." (Source: MDE)
BALTIMORE (November 4, 2011)—The Maryland Department of the Environment has temporarily closed to shellfish harvesting a limited area near a docked cruise ship that is expected to temporarily house St. Mary's College of Maryland students.
The Department has also been working with college officials to gain an understanding of how the College will handle wastewater from its rented cruise ship Sea Voyager. The college has informed MDE that it plans to collect wastewater in a holding tank onboard the ship and periodically pump it to a wastewater treatment plant.
Commercially sold oysters must be harvested from waters that meet high standards for bacteria levels to protect the health of consumers. Because of the potential human health risk from any accidental, overboard discharges from the vessel, MDE took the precautionary measure of temporarily restricting shellfish harvesting in a small area of the St. Mary's River near Historic St. Mary's City Dock, just below Church Point.
"St. Mary's College officials have been forthright in working with the Maryland Department of the Environment to ensure that every step is being taken to safeguard vulnerable shellfish resources in the St. Mary's River as they address their student housing issue," said Maryland Department of the Environment Secretary Robert M. Summers. "Shellfish are very efficient filter-feeders and will concentrate any bacteria or viruses that may be in the water. We are taking this precautionary measure to prevent the unintentional harvesting of contaminated shellfish to maintain Maryland's reputation for safe and wholesome seafood products."
The area includes a portion of the Seminary oyster bar that is normally harvested. A larger portion of this bar is within an oyster sanctuary and thus already closed to harvesting. Other oyster bars further downstream in the St. Mary's River remain approved for harvesting.
Shellfish are filter feeders with the ability to filter water and get food from microscopic organisms in the water. If the waters are polluted, this filtering process can concentrate disease-causing organisms associated with raw sewage and other sources, such as animal waste. Oysters and clams are often eaten raw or partially cooked and must come from waters that are not polluted.
The temporary closure went into effect Tuesday, November 1, through notice to regulating authorities and stakeholders. It is to remain in effect until the vessel leaves the dock. The closure applies only to the harvesting of shellfish (oysters and clams); it does not apply to fishing or crabbing. The closure is consistent with National Shellfish Sanitation Program requirements for docked vessels and marinas.
MDE has been in contact with St. Mary's College officials since last week, when they described plans to house students on a cruise ship docked in the St. Mary's River. The students were displaced from dormitories in need of repair after recent storms.
College officials informed MDE that they will collect the ship's wastewater, including "grey water" from sources such as showers, in an onboard holding tank with a four- to five-day capacity. The wastewater is to be pumped from the ship to a St. Mary's County Metropolitan Commission wastewater treatment plant.
MDE is directing the college to immediately report any leak, spillage, or discharge of wastewater.
Source: Maryland Dept. of the Environment