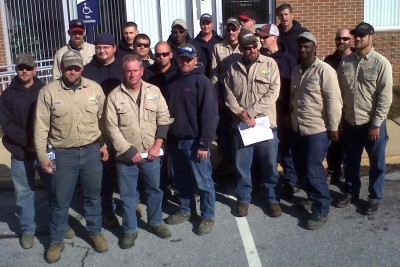 SMECO crews assist with restoring electric service to customers of Metropolitan Edison, a First Energy company, in eastern Pennsylvania. Pictured left to right, first row: Bobby Hamilton, Donnie Hill, Larry Hayden, Hal Spence, John Boome, and Scott Gaglardi. Second row: Eric Reardon, Harry Jackson, Jared Stern, Rick Mattingly, Brent Hancock, Mike Niland, and Jason Dunning. Third row: Steve Cook, John Meade, Tony Knox, Tony Suttle, Jason Murray, and Rob Dennee. (Submitted photo)
HUGHESVILLE, Md. (November 3, 2011)—After an early winter storm rolled across New England on Saturday and Sunday, October 29 and 30, Southern Maryland Electric Cooperative (SMECO) crews drove to Boyertown in eastern Pennsylvania to help restore electric service to customers of Metropolitan Edison, a FirstEnergy company.
SMECO's 20 linemen left early Tuesday morning to help put up power lines that were downed when snow laden branches snapped and fell on lines and broke utility poles and cross arms.
According to First Energy's website, about 32,000 of Metropolitan Edison's customers were without electric service as of Wednesday morning; nearly 270,000 of the utility's customers had been affected by outages.
Jay Farrell, general foreman for SMECO, said on Wednesday, November 2, that there was still about an inch or two of snow in the shady areas, but the snow in sunny spots had melted. According to residents, the area received 18 inches of snow.
SMECO's crews are working on side roads, along mountains and hillsides. The electric system poses a challenge because it is older and the voltage and configuration of the power lines varies between a 13,000-volt Y system and a 4,800-volt delta system, which is not grounded. SMECO lineman apprentice Jason Murray said, "It's nothing we can't handle." The Co-op sent three additional crews on Wednesday afternoon to assist with restoration efforts.
According to news reports about the early winter storm, snowfall amounts ranged from less than an inch in some places to 32 inches in the small town of Peru, Massachusetts, in the Berkshire Mountains. And more than three million homes and businesses in the Northeast lost power at the height of the storm, which was blamed for at least 20 deaths.