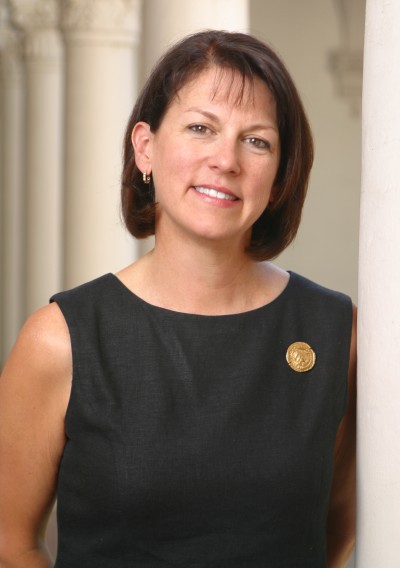 Patricia Goldsmith, new St. Mary's College of Maryland's vice president and dean of admissions and financial aid. (Submitted photo)
ST. MARY'S CITY, Md. (November 2, 2011)—St. Mary's College of Maryland announced that Patricia Goldsmith will join the school as vice president and dean of admissions and financial aid. Goldsmith will start work in January 2012, ending 16 years of service at Scripps College in Claremont, California. While at Scripps College, Goldsmith served as vice president and dean of admission and financial aid; vice president for enrollment, marketing and communication and financial aid; and is completing her service to the college as the vice president of institutional advancement.
"I built my career working with families who didn't know they needed a key to unlock opportunities—I want to return to that," said Patricia Goldsmith. "Although Advancement is an intriguing position, my heart is with working with students and families," said Patricia Goldsmith of her decision to return to admissions and financial aid work.
"We are pleased to welcome Patricia and we are excited to apply her varied skillset to the role of dean of admissions and financial aid," said St. Mary's College President Joseph Urgo. "She will be able to leverage a deep understanding of the college's strategic, communications and financial goals, and apply that knowledge to create additional access and college preparatory opportunities for prospective students," said Urgo. "We look forward to the added value Patricia will bring to our senior administrative team."
Goldsmith's successes at Scripps College are numerous and include raising $12.3M on a $10M overall annual goal and $3.5M on a $2.8M annual fund goal; directing a strategic recruitment campaign; diversifying the student body using multi-pronged programming, and providing oversight to their inaugural first-generation orientation program.
Prior to working at Scripps College, Goldsmith filled a variety of roles in admissions, counseling and recruitment services at Harvard and Radcliffe colleges in Cambridge, Massachusetts; Rowland Hall-St. Mark's School in Salt Lake City, Utah; and the University of Utah, also in Salt Lake City, Utah.
"I was drawn to St. Mary's because of its unwavering commitment to academic excellence and diversity," said Goldsmith. "The fact that it's a public honors institution that continues to distinguish itself with a unique education otherwise only available at private institutions is very appealing," said Goldsmith. "It also doesn't hurt that it's in one of most beautiful places I've seen," she added. "I look forward to becoming a member of the administrative team that is going to move the institution to greater national prominence."
Goldsmith has a master's degree in theological studies from Harvard Divinity School in Massachusetts and a bachelor of arts degree in literature from Hamilton College in New York.
In her free time, Goldsmith enjoys distance running and has completed six marathons. She also enjoys traveling and cooking.