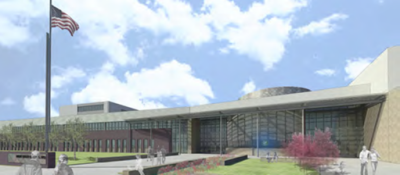 Artist's Illustration of the front of the new St. Charles High School.
GAITHERSBURG, Md. (November 2, 2011)—HESS Construction + Engineering Services, a leading builder of educational facilities in the Mid-Atlantic, has been selected by Charles County Public Schools (CCPS) to manage construction of St. Charles High School, a state-of-the-art science and technology school committed to environmental stewardship.
Designed to engage students in a technology-rich learning environment, St. Charles High School will serve the greater community as a model for environmental study, research, and conservation. Specialized features of the school will be made available for use by all CCPS students in grades PreK-12 and include a 150-seat interactive digital classroom; a room-sized globe that displays animated images of science, the earth, and the environment; and technology that connects students with classrooms around the world.
The new 285,000 square foot, four-story school will provide an innovative and progressive academic curriculum focused on preparing students with the skills that will be demanded of them in an increasingly competitive global climate. The design includes a state rated capacity for 1,600 students and will house traditional classrooms, a 600-seat auditorium, a 2,000-seat gymnasium, cafeteria, media center and administrative areas. Athletic features will include a football stadium with seating for 2,000, an eight-lane track, 14 athletic fields, and eight tennis courts.
Environmental education programs will be provided for students and the community with a focus on three major environmental areas: Natural Resources Management, Environmental Technology, and Environmental/Natural Resources and Ethics.
The new St. Charles High School was designed by SHW Architects to achieve silver certification in conformance with Leadership in Energy and Environmental Design (LEED) through the United States Green Building Council (USGBC). Energy-saving features can be found throughout the design and include geothermal heating and cooling, natural lighting and occupancy sensor control light fixtures, super-insulated building envelope, water-conserving plumbing fixtures, reflective and cool roof systems, water efficient landscaping and pervious paving, energy management system, and building commissioning.
Source: HESS Construction + Engineering Services