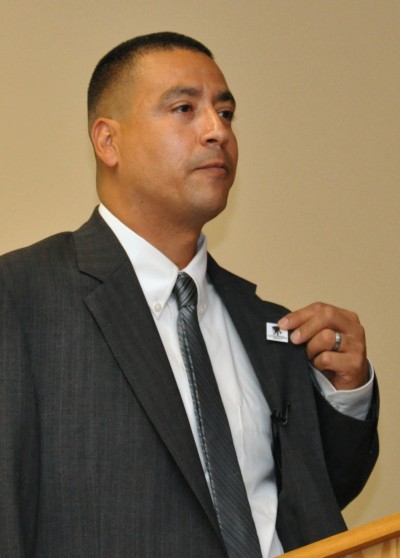 National Hispanic and Disability Employment Awareness Month observance keynote speaker Norberto "Norbie" Lara - a Wounded Warrior who lost his arm in a 2004 firefight in Iraq - shows a pin depicting a "fireman" casualty carry to the audience at Naval Support Facility Dahlgren Oct 12. "I was that guy on top there being carried. Now, I carry others on my back," he said. (U.S. Navy Photo by Andrew Revelos)
DAHLGREN, Va. (October 18, 2011)—A wounded warrior speaking about his lengthy rehabilitation process told military and civilian personnel attending the National Hispanic Heritage and Disability Employment Awareness Month Observance at the Naval Support Facility Dahlgren Oct. 12 that, "the way to get over your own challenges is to help others overcome their challenges."
Norberto "Norbie" Lara—a medically retired Army Sgt. 1st Class who takes his inspiring story around the country as a spokesman for the Wounded Warrior Project's 'Warriors Speak' program—recounted the day of his injury and talked about his efforts in helping wounded warriors transition to their new life after injury.
"I'm thankful about life now," said Lara, the keynote speaker for the NSWC Dahlgren Division sponsored event at JD's Training Center.
The veteran is one of many wounded warriors and caregivers representing the Wounded Warrior Project who share their personal, inspirational stories of courage and integrity with the public.
In June 2004, while on combat patrol in Iraq, a rocket propelled grenade (RPG) struck Lara's vehicle. The RPG penetrated the firewall and severed his arm. Shrapnel from the explosion also ripped through Lara's body, lacerating his liver. Inhaling when the RPG exploded caused severe lung damage.
Evacuated from the scene, Lara slipped into unconsciousness and was later placed in a medically induced coma at Walter Reed Army Medical Center in Washington, D.C. He awoke in August, clinging to life, unaware that two months had passed.
"My battlefield mission is over, but now I have another mission," says Lara. "There are people coming home that I can help. And down the road, when they get better, they'll get charged with the same mission to help others too, all the way down the line until the last person comes home."
It took months of intense therapy at Walter Reed before Lara could even sit up in bed without being winded. For two months he couldn't walk or talk. Through hard work, he was finally able to breathe on his own, relearn how to walk, and even run.
I was so proud to be able to run one mile - as proud as I was when I could run 14 miles," said Lara, who represented the Army at the State of the Union address in 2005 as First Lady Laura Bush's honored guest.
One day, a representative from the Wounded Warrior organization visited Lara and asked if he would like to go skiing. At first Lara refused but his peers keep pushing, so he flew to Colorado where a Vietnam veteran who had lost both arms taught him how to ski.
"I reflected on that trip a lot when I returned to Walter Reed," said the highly decorated soldier - veteran of the Year for both the 34th California Assembly District and by the Visalia Veteran's Committee.
Soon, he was golfing and rafting with Wounded Warriors - "taking advantage of opportunities to show that life was far from over."
One out of five returning wounded veterans are suffering from some form of depression or PTSD, said Lara, asking the audience to take a good look at the Wounded Warrior logo, which includes the fireman's carry. "We're all here for each other," he concluded.
Lara retired in September 2006 and returned home to Visalia, Calif., where he lives with his wife, Priscilla, and their four children. He is currently enrolled at the College of the Sequoias and plans to transfer and graduate from California State University in Fresno with a degree in social work.
Since retiring, Norbie has helped many Wounded Warriors like himself transition to their new life after injury, by introducing them to the Wounded Warrior Project.
Warriors Speak participants share their compelling stories before public audiences such as civic organizations, social clubs, business groups, and conferences. Local media representatives, Wounded Warrior Project donors, and corporate sponsors are often invited to the speaking engagements as well.
Disability Employment Awareness Month

The Bureau of the Census has compiled a series of statistics for National Disability Employment Awareness Month regarding individuals with disabilities. These include:

-- In the U.S. 54 million people have a disability

-- Of that, 12.3% are women, compared to 11.6 % of men

-- West Virginia has the highest percentage of people with a disability at 18.8% of the population

-- Utah has the lowest percentage of people with a disability at 8.9% of the population

-- Difficulty hearing is experienced by 10.2 million people, 5.8 million of these are 65 or older

-- Visual difficulties account for 6.5 million people

-- Approximately 13.5 million people have trouble concentrating or making decisions, 2.1 million of these are 5 to 17 years of age

-- Roughly $35.3 billion has been received by veterans for service connected disabilities for 2008

-- Around 21% of the population ages 16 and older with a disability are below the poverty level

-- Nearly 72% of disabled people 16 and older are not in the work force
National Hispanic Heritage Month

More than half of the growth in the total population of the United States between 2000 and 2010 was due t-- the increase in the Hispanic population.

Between 2000 and 2010, the Hispanic population grew by 43 percent. The Hispanic population increased by 15.2 million between 2000 and 2010, accounting for over half of the 27.3 million increase in the total population of the United States. Hispanic origin can be viewed as the heritage, nationality group, lineage, or country of birth of the person or the person's parents or ancestors before their arrival in the United States.

People who identify their origin as Hispanic, Latino, or Spanish may be of any race.

-- 9.7 million - the number of Hispanic citizens who reported voting in the 2008 presidential election, about 2 million more than voted in 2004. Source: Voting and Registration in the Election of 2008.

-- 12% - percentage of college students (both undergraduate and graduate students) in October 2009 who were Hispanic. Source: School Enrollment - Social and Economic Characteristics of Students: October 2009.

-- Serving our Country - 1.1 million Hispanics or Latinos 18 and older who are veterans of the U.S. armed forces. Source: U.S. Census Bureau, 2009 American Community Survey.

-- 19% - the percentage of civilian employed Hispanics or Latinos 16 and older who worked in management, professional and related occupations in 2009. Source: U.S. Census Bureau, 2008 American Community Survey.