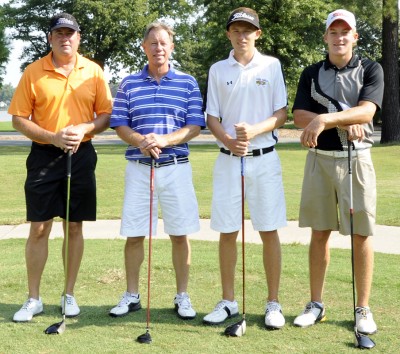 The winning team for the CSM Foundation's 20th anniversary Golf Classic is the McDonald & Eudy Printers, Inc. Team, comprised of golfers, from left, Mike McDonald, Kim Dickerson, Cass Dickerson and Taylor Fuqua. (Photo: CSM)
LA PLATA, Md. (October 6, 2011)—Community members from around Southern Maryland swung into action for a good cause in August—the College of Southern Maryland Foundation's Platinum Anniversary Golf Classic at Swan Point Yacht and Country Club.
"Over the past 20 years, this tournament has become a signature event for the college," said CSM President Dr. Brad Gottfried. This year, more than $42,000 was raised for scholarships and programs.
Since the first Golf Classic, CSM has raised more than $500,000 and during half of those years, Marrick Homes has been the tournament's grand sponsor.
"The CSM Foundation is fortunate to have many partners, friends and supporters; however, long-time partners such as Marrick Homes are a rare find," said CSM Vice President of Advancement Michelle Goodwin. "We are grateful that Marrick has supported CSM students and programs for more than a decade. They truly understand the impact CSM has on the local workforce and the community that they care so much about."
Prior to the shotgun start, Miss Maryland/USA Allyn Rose thanked sponsors and golfers for their generosity. Rose attended CSM on an athletic scholarship in 2006 before transferring to the University of Maryland where she earned a bachelor's degree in government and politics/philosophy. She attributed her start at a community college, with her future academic success.
CSM freshman/sophomore Erika Specht, a center mid-fielder for this fall's CSM women's soccer team, said that CSM's athletics program provides her with an avenue to further her values. With proceeds from this year's Golf Classic going to athletic programs, students can see the value that is placed on athletics, she said. "We—the athletes—are very appreciative of the support."
Throughout the day, former State Delegate and Honorable Committee Chair Murray Levy greeted participants at the 17th hole. The event was a great opportunity to support the community in a struggling economy, Levy said.
Other sponsorships include corporate sponsor Quality Built Homes, Inc.; platinum sponsors Buddy and Carol Sprague; partner sponsors Community Bank of Tri-County, County First Bank, GenOn Mid-Atlantic LLC and SMECO; patron sponsor Karen and Dale Hupp; hole-in-one contest sponsors Ken Dixon Automotive, All American Harley-Davidson and Hugh C. Gardiner, Inc.; putting contest sponsors Community Bank of Tri-County, and Raley, Watts & O'Neill Insurance and Financial Services; women's closest-to-the-pin sponsor, Charles County Dermatology Associates, Inc.; men's closest-to-the-pin sponsor, Dash-In Food Stores; men's longest drive sponsor, Sheehy Nissan/Hyundai Waldorf; women's longest drive sponsor, Waldorf Ford and Dodge, Inc.; men's straightest drive sponsor, Lemmert Insurance and Financial Agency (State Farm); and women's straightest drive sponsor, Dr. and Mrs. John Sine. Donations for food and beverages were made by Chick-fil-A, WaWa, Safeway of La Plata, Randy's Ribs, Mamelah's LLC, Royalle Services, Inc. and Bozick Distributors, Inc.
The winning team was McDonald & Eudy Printers, Inc. with players Mike McDonald, Kim Dickerson, Cass Dickerson and Taylor Fuqua. Second place was the First Home Mortgage team of Chris Hood, Eric Grainger, Derek Johnson and CSM student golfer Kyle Carranza. Third place was the Marrick Homes team of Jay Webster, Steve Bigelow, Carl Sera and Carlos Sera.
Awards were also given to Carol Sprague and Michael Hill for the longest drives; David Johnson and Evie Hungerford for closest-to-the-pin; and Vince Hungerford and Terri Hungerford for straightest drives.
"Everyone seemed to enjoy the day," said Committee Chair Joe O'Neill, adding that the real winners of the event were the students.
Source: CSM