Minor Traffic Diversion on Route 5 during the Night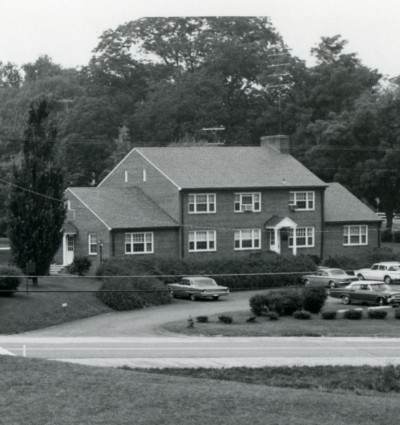 Margaret Brent Hall, an administrative building at St. Mary's College of Maryland, will be moved across Route 5 in the early morning hours of Wednesday, Sept. 14. (Submitted photo)
ST. MARY'S CITY, Md. (September 9, 2011)—A 1951 brick office building owned by St. Mary's College of Maryland will be moved Sept. 14, barring a weather delay, from its original location on the historic side of campus along Route 5 to its new location near the college's Campus Center. The actual time on Route 5 is estimated to be 3-4 hours, and is scheduled to be done sometime between 12 to 5 a.m. for less vehicle disruption. The road will be closed during that time, and vehicles temporarily diverted.
The move of Margaret Brent Hall, says Charles Jackson, associate vice president of planning and facilities, is part of an overall redevelopment of a portion of the college's historic section of campus. The existing site will have new academic and interpretive structures supporting both St. Mary's College and its neighbor, Historic St. Mary's City. "Moving Margaret Brent has a number of advantages over demolishing it and building new," said Jackson. "It costs less than new, it preserves the architectural heritage of the buildings, and it is environmentally sound. By reusing the existing building, we are reusing materials, savings tons of waste, and preserving the embodied energy of the original materials."
For several weeks, workers from Expert House Movers, of Sharptown, Md., which also moved the Brome-Howard House and the Cape Hatteras lighthouse, has been digging the building from its foundation and getting it ready to be jacked onto dollies. Meanwhile, the W.M. Davis company, of Leonardtown, has been pouring footers for a foundation on the new site in the current Campus Center parking lot.
After the building is moved across the street, the slow crawl to its permanent home could take up to two days. The house then hovers over the footers and workers build the foundation beneath. It will then take two months to finish interior renovations in preparation for its new occupants, the college's Department of Philosophy and Religious Studies.
The Margaret Brent structure was originally built in 1951 to house faculty, and included 12 apartments. A decade or so later it became home to administrative offices, which were all moved in 2009 to the new Glendening Hall. Margaret Brent has been empty since then.
Expert Movers transports 50-70 buildings a year. "Brick is a completely different ballgame than frame," said Gabriel Matyiko, Expert House Movers vice president. "Loading is different, everything is bigger and we need more of it. This is about 240 tons. The average wooden building is 120 tons."
Why do people move homes and other buildings? Matyiko said 40 percent of moves are to actually raise them on their current spots due to soil erosion or possible flooding. "There's a gazillion reasons," he explained. "Natural disasters, for development, oil spills, eminent domain, new construction. There's also times when a tree falls or its roots grow into the house's foundation. I remember one time when a court decision gave one the house and the other the property."
Source: SMCM