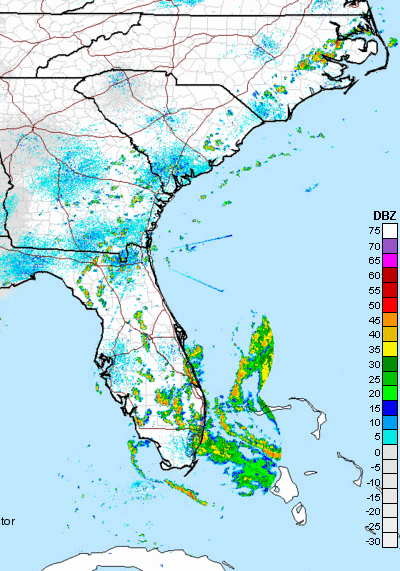 Hurricane Irene shown off the coast of Florida in this NWS radar image as of 2:18 p.m. Thursday.
CALIFORNIA, Md.—Hurricane Irene—the first storm of the 2011 season—is heading up the east coast towards southern Maryland. As of 11 a.m. today, the National Weather Service is forecasting the following impacts for the tri-county area:
-- Rainfall in the amount of 2 to 5 inches;
-- Sustained winds of 30 to 40 mph and gusts up to 50 and 55 mph beginning on Saturday around 3 p.m. through to Sunday morning; and
-- Tidal surge (tidal flooding) approximately one foot above normal, but could be as high as two to five feet, depending on the track of the hurricane.
This predication is based on the current track. Deviation of the storm either east or west, or a change in storm intensity, will alter these predictions substantially.
Due to the dynamic nature of a hurricane, somd.com will be tracking the storm as follows:
-- We will post all bulletins, alerts, and advisories related to Hurricane Irene that we receive from government agencies and public utilities here:
http://somd.me/irenesomd2
-- We will post all public closings, cancellations, and postponements related to Hurricane Irene here:
http://somd.me/irenesomd
-- Current weather predictions and warnings from the NWS are available in our weather section at
http://weather.somd.com/
Information and photos related to the hurricane that you would like us to publish may be sent to news(at) somd.com.
Readers who are interested in participating in discussions in the Community Forums, who do not currently have user accounts, are advised to signup now as all accounts require manual review and approval. Sign up at
http://forums.somd.com/register.php
.
All citizens can sign up for direct emergency bulletins from the county governments via phone, email and/or text message. Directions on how to sign up are available at
http://somd.me/somdalerts
.
somd.com servers are located in state-of-the-art data centers in both Washington, D.C. and Dallas, Texas. We do not anticipate any interruption to service as long as local internet and power remains online.
Readers are advised to have portable, battery-operated radios on hand with fresh batteries should power, telephone, internet and/or cell phone service be unavailable for long periods. Radios that use batteries and a hand-crank dynamo are the most reliable source of information in case of prolonged power outages or significant storm damage. Landline telephone service typically remains online, even in case of power outages, as the phone companies are required to maintain backup power sources. Just be sure to have a hardwired telephone handset that does not require power to operate (the old-fashioned kind).
Emergency Alert System stations include:
WPTX 920 AM Lexington Park
WKIK 102.9 FM Mechanicsville
WAAI 100.9 FM Cambridge
WMDM 97.7 FM Lexington Park
WCEM 1240 AM Cambridge
WCMD 1560 AM La Plata
WCEM 106.3 FM Cambridge
WXTR 104.1 FM La Plata
WCEI 1460 AM Easton
WSMD 98.3 FM Mechanicsville
WCEI 96.7 FM Easton