By Sarah Miller, The County Times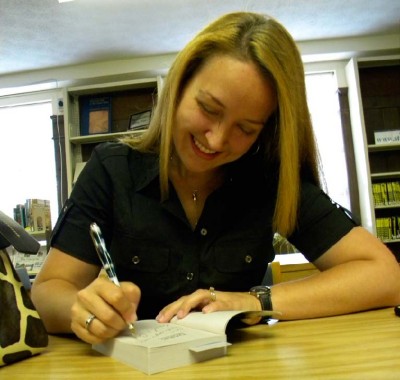 Kendra Leigh Castle, of Leonardtown, signs a copy of her book "
Dark Awakening
." (Photo: Sarah Miller)
HOLLYWOOD, Md.—Shapeshifters and vampires, strewn from the highlands of Scotland to New York and beyond, inhabit the world detailed in Kendra Leigh Castle's books. The New York-born, Leonardtown resident is preparing for her next release in January – "Midnight Reckoning," the second in the Dark Dynasties series.
Castle has been actively writing since 2005, though she said writing has been a lifelong hobby for her. Since she was a child, Castle has been an avid reader, and decided to start writing to bring to life scenes she wasn't seeing played out by her favorite authors.
She said she decided to write her first book when she and her husband were living in the Nevada desert. Having decided there would be no better time than being stuck in the middle of nowhere to buckle down and write, Castle said she finally wrote her first book.
As a reward to herself for finishing the book, Castle joined the Romance Writers of America, and began her quest for an agent to publish her book. While the book got no bites and several rejection letters, Castle said the experience was priceless.
"I don't think you learn how to write a book until you write a book," she said.
While many of the rejection letters she received were form letters, some were more personalized and praised the "voice" in her book and offered tips on improving her writing, "which is invaluable," she said. Castle still has her first novel, and its rejection letters.
She said the response to her first book was what kept her going while writing her second book, featuring a werewolf who travels from the Scotland Highlands to upstate New York. The book, "Call of the Highland Moon" was what landed Castle her first agent and publishing deal.
"Call of the Highland Moon" was the first in Castle's first series, the MacInnes Werewolves trilogy. Her choice to set her story in New York was the result of a piece of advice to "write what you know."
For remote locations that Castle has never actually visited, like Scotland, she does "internet traveling" to find pictures and descriptions.
Currently, Castle is working on her second series, the Dark Dynasties. The first in that series, "Dark Awakening", was released in July 2011 through Grand Central Publishing. The second two, "Midnight Reckoning" and "Shadow Rising," will be put out in 2012. Another of Castle's books, "Renegade Angel," was a finalist for the 2011 RITA award for Contemporary Series Romance in Suspense or Adventure.
While some books are a fight to get every word out of her head and onto the page, Castle said "Renegade Angel" was "a lot of fun to write," and was the product of years in Catholic schools.
Normally, Castle said she doesn't scream out of excitement, but after the phone call with the news that she was a RITA finalist, her customary reserve broke.
"It was the shriek heard all the way around the neighborhood," Castle said.
She said she is still a voracious reader, though she has less time to do so currently. She said she started out reading historical novels, and moved on to everything from Nora Roberts to Gena Showalter. She said she has even read "Fabio covers" and Stephen King, covering the gambit of both novel genres and lengths.
She said some writers are plotters while others are "pantsers." Plotters will have full storyboards and character outlines before they begin writing while "pantsers" just sit at their computer and start writing without having a clear idea of where they will wind up.
"The fun for me is finding out where I'm going," Castle said.
While she does fly by the seat of her pants when writing, Castle said she also keeps a notebook for every book she writes where she scribbles down scenes and ideas or just starts writing longhand if she gets writers block at the computer screen. Castle said the change from typing to writing longhand can be enough to get through rough spots.
"It's really not very organized," she said. "But it works for me."
For more information Kendra Castle and her books, visit her
author page on amazon.com
.