Police believe suspect robbed a bank in Silver Hill 45 minutes before hitting Dunkirk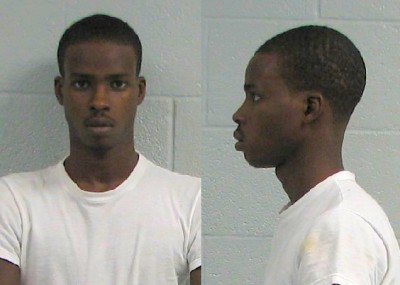 Moshood Abiola Shonekan, of Bowie, Prince George's County, was arrested and charged in connection with bank robberies in Silver Hill and Dunkirk on August 9. He was arrested within 3 days of the robberies. (Arrest photos)
CALIFORNIA, Md. (August 17, 2011)—Police have arrested a Bowie man in connection with the robbery of the Capital One Bank in Dunkirk on Tuesday, August 9. Moshood Abiola Shonekan was arrested three days later on August 12 in Bowie.
Police also determined that a Capital One Bank located in Silver Hill was robbed by Shonekan approximately 45 minutes prior to the robbery in Dunkirk.
Police determined that Shonekan was their suspect on August 11 using forensic evidence obtained from the Capital One Bank in Bowie.
The following day, on August 12, members from the Calvert Investigative Team (CIT) obtained an arrest warrant for Shonekan and a search and seizure warrant for his residence. At approximately 6:30 p.m., members from the Calvert County Sheriff's Office, the Maryland State Police Barrack U, Prince George's County Police, and the Federal Bureau of Investigation located Shonekan gambling in a park near his residence. A short foot pursuit occurred and Shonekan was taken into custody.
Shonekan was transported to the Calvert County Sheriff's Office and was interviewed by Sgt. T. Fridman of CIT and Det. Canada of the Prince George's County Police Department. Police say Shonekan admitted to the robberies in Dunkirk and Silver Hill.
Police say the investigation is still on-going and Shonekan is a subject of interest in several other bank robberies that occurred in Prince George's County. Anyone with information regarding any of these robberies is asked to contact Det. Fridman at 410-535-1600 ext. 2547.