By Tom Horton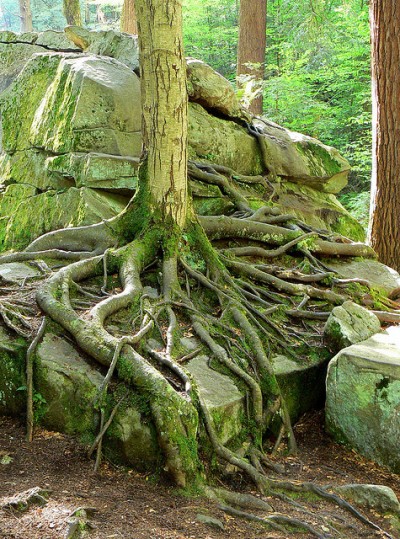 A scene from Swallow Falls State Park in Western Md. (Photo: Vicki Ashton via Flickr. Licensed under
CC BY-NC-SA 2.0
)
Ever seen a bald cypress in its sixth century, or groves of mammoth hemlocks never visited by the axe? How about the tallest forest in the northeastern United States, or oaks and maples so big they stop hikers in awe?
These ancient forests and more are newly accessible to residents of the Chesapeake region. They've been here for centuries, of course; but now comes "Among the Ancients" (Ruka Press, Washington, D.C.), Joan Maloof's unique guidebook to old growth forests one can visit in every state east of the Mississippi.
From Swallow Falls State Park in western Maryland and Pennsylvania's world-class Cook Forest, to Ramsey's Draft wilderness area in Virginia, and Delaware's James Branch off busy U.S. 13, Maloof shows us botanies most professional foresters scarcely know exist.
Indeed, Maloof, a professor of botany at Salisbury University on Maryland's Eastern Shore, was assured for years that such never-cut places no longer existed in the East outside refuges like the Smokies and Adirondaks.
But beginning in the 1990s old growth advocates had begun to search out and document original remnants. The total amounts to only half a percent of the Eastern forest, but that is more than 2 million acres — and no one lives far from at least a patch of it.
Reasons for protecting and expanding old growth forests range from their capacity to absorb pollutants such as carbon dioxide and nitrogen, to the purity of runoff that percolates through undisturbed layers of forest litter. Their wildlife values are immense compared with the 60– to 120-year old stands that pass for big woods nowadays. Old growth can guide us in developing high value, sustainable commercial timbering; and the recreational economies of towns near such forests benefit handsomely.
Maloof touches on most of the above; but that is not her primary purpose in "Among the Ancients."
She wants to change your life, or at least the way you see the landscape. In lucid, elegant prose, she takes you on ecological, spiritual and aesthetic tramps through what our land once was — and might be again, if people join her newly conceived Old Growth Forest Network.
The book has maps and directions to old growth locations; but it's something deeper she intends about 'getting to old growth'.
The more she trekked, often alone, camping for the night, the more she came to feel the true sum of the forest, its smells and sounds, the springy feel of undisturbed leaf duff, the diversity of species, the soaring canopy was simply beauty.
"We tend to discount beauty because it is so difficult to define and measure, but beauty is a physiological reality……the experience of it changes the levels of neurotransmitters in the brain. We may need the beautiful more than we know," she writes.
The trips in the book run the gamut. It's a pleasant stroll into Maryland's state park at Swallow Falls, among white pine and hemlock growing since the American Revolution. Here, naturalist John Burroughs camped with Henry Ford, Thomas Edison and Harvey Firestone, joined on occasion by presidents Warren Harding and Calvin Coolidge.
One of Maloof's toughest bushwhacks to old growth came a couple miles from beach-trafficked U.S. 13 through southern Delaware, paddling a log-clogged creek in search of "The Patriarch," a 500-plus -year-old bald cypress.
Wet, tired and mud-caked after several hours, she came to the monumental cypress — or was it? There were lots and lots of big, old specimens, a rare original patch of "dark and complex beauty," amid the farms and sprawl of lower Delaware.
Typically, the author, a highly regarded teacher, does not belabor describing the trees themselves, preferring to tickle the readers' imagination, to encourage discovery.
So on her trek into Virginia's Ramsey's Draft wilderness she gives a delightful eco-lesson on the stinging nettles of the forest understory, relating them to bison and butterflies. The gorgeous old trees you'll have to see for yourself.
She can't restrain herself in Pennsylvania's fabled Cook State Forest, among her top four, old growth areas.
In this massive tract "it is possible to feel that you are indeed in a wild place…the tallest canopy in the northeast. I felt almost as if I had been drugged. I was so filled with joy I had a cheek-splitting grin on my face."
Her journeys to old growth have set Maloof on a higher path. She has recently retired from teaching to form the Old-Growth Forest Network to establish at least one piece of ancient forest, protected and publicly accessible, in every U.S. county that can grow trees.
Tom Horton covered the bay for 33 years for The Sun in Baltimore, and is author of six books about the Chesapeake. He is currently a freelance writer. Distributed by Bay Journal News Service.