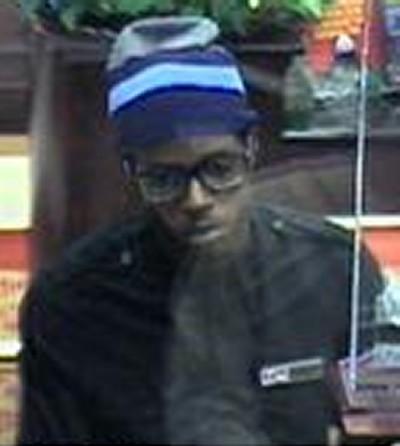 Bank surveillance photo of a man who robbed the Capital One branch in Dunkirk this morning. Police say the man said he had a weapon, but did not display it.
CALIFORNIA, Md. (August 9, 2011)—Another bank has been robbed in southern Maryland. This time it was the Capital One branch in Dunkirk, Calvert County. The robbery occurred at 11:00 a.m. this morning, according to the timestamp on the surveillance photo.
Police say the man stated he had a weapon in his possession, but did not display it.
Police describe the suspect as a black male in his twenties, 5'-08", 140 pounds, wearing a blue stocking cap and a blue jumpsuit with glasses.
Police initially believed that the suspect either fled on foot or possibly in a white SUV.
Police initially shut down northbound Md. Route 4 near Dunkirk in search of the man. They subsequently issued an update at 12:26 p.m. saying, "The immediate threat to public safety has passed."
Police are asking anyone with possible information about the robbery or suspect to contact them at 410-535-2800.