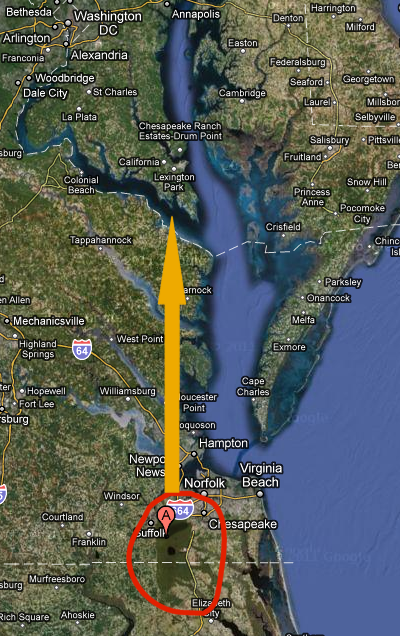 Prevailing winds from the south are blowing smoke from a 2,500 acre fire at the Great Dismal Swamp (circled in red) near Chesapeake City, Va. into the southern Maryland tri-county area today. The fire was started by lightning and has been burning for 5 days.
CALIFORNIA, Md. (August 9, 2011)—The smell of fire in the air this morning has caused concern for many southern Marylanders. Citizens in the entire tri-county area have sensed the odor, and some have even called 9-1-1 to report it. Local authorities have tracked the source of the smoke to a 2,500 acre wildfire in the Great Dismal Swamp near Chesapeake City, Va.
According to a news release from the
Great Dismal Swamp National Wildlife Refuge
, the fire, which was started by lightning, has been burning in the Great Dismal Swamp for five days. High temperatures, low humidity, and gusty winds sent the fire across sections of firebreaks constructed over the past three days. The fire is southwest of Lake Drummond off Interior Ditch Road and remains well within the refuge boundary. The release said smoke will be visible for many days and may be heavy at times.
Fire professionals and equipment continue to arrive from several agencies, including the U.S. Fish and Wildlife Service, the U.S. National Park Service, the U.S.D.A. Forest Service, the Virginia Department of Forestry and AmeriCorps NCCC. The fire is now being managed by the Type 3 Virginia Interagency Incident Management Team.
Due to the high winds out of the south, we will probably experience smoke throughout the day as prevailing winds are blowing smoke into the southern and eastern shore areas of Maryland.
09-AUG-2011 12:55 p.m.:
The St. Mary's County Health Department has issued a Health Advisory for Code Red Air Pollution for sensitive groups including children, ill people, and the elderly. These individuals should take the following precautions if possible:
-- Leave the area if you are at greater risk from breathing smoke.
-- Limit your exposure to smoke outdoors and indoors.
-- Stay inside and use your air conditioner. If you do not have an air conditioner, or if smoke is likely to get inside your house, leave the area until the smoke is completely gone.
-- Avoid activities that put extra demands on your lungs and heart. These include exercising or physical chores, both indoors and outdoors.
-- Make sure you take all of your medications according to the doctor's instructions. Contact your physician if your health gets worse.
-- Dust masks, bandanas, or other cloths (even if wet) will not protect you from smoke.
Calvert and Charles County governments have not released similar advisories at this time.