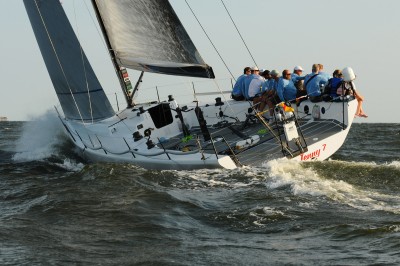 The Flying Jenny 7, skippered by David Askew, plies the bay during the 2011 Governor's Cup Yacht Race. (Photo: Allen Clark/PhotoBoat.com)
ST. MARY'S CITY, Md. (August 7, 2011)—More than 150 boats tackled stiff southern breezes that made for lumpy seas, continuous tacking, and tough sailing during the 38th St. Mary's College of Maryland Governor's Cup Yacht Race that sailed from Annapolis to St. Mary's City Friday night. "All these boats, crossing and ducking all night," said Steve Jaenke, on board the Defiance for the U.S. Naval Academy. "But what a good race!"
This year, for the first time, a more informal cruising class was introduced, and the slower classes got to cross the start line three hours earlier than in the past. Those classes, cruising, PHRF C/D, and PHRF B, began at 3 p.m. The idea was to get all the racers arriving in closer proximity and it appeared to work. "I've raced my Hinkley 50 six to eight times in this race, but had pretty well given up. Every year after dawn the wind dies," said Doug Kinney, of Annapolis, skipper of Godspeed. "This year, we got in at 8 in the morning! It was a good race, painful, but sometimes pain is good."
"The change in format was a success," agreed Adam Werblow, St. Mary's College waterfront director. "Rather than one regatta, it was like we had two big regattas with two exciting starts. Also, the smaller boats say they felt more included. It was fun for them to be sailing up St. Mary's River alongside the faster, bigger boats."
Many racers had stories from their bumpy, wet ride. "Lots of waves, wet and wild," said Richard Born, of Annapolis and skipper of Windborn. "It was nice to finish before the sunrise."
It's those kind of stories the racers will remember best. Two St. Mary's alumni, John Meiser '89 and Clarke McKinney '78, aboard The Riddler, quickly realized they had chosen the wrong sail at the start. "We had too big a head sail," said Meiser. "So changing that slowed us a bit. Then a halyard broke and the sail came down again."
Clayton Bigsby, Chester, Md., crewing on Upgrade, slipped off the boat into the dark waters around midnight. "I wasn't sure they saw me go, so I yelled 'man overboard,'" and they came back."
Winners in each division: A-0 class: Flying Jenny 7 skippered by David Askew; A-1 class: Windborn led by Richard Born; A-2 class: Defiance, with skipper Katie Davis; Multihull class: Triangle, and skipper Gary Spesard; B class: Prim with Henry Gibbons-Neff; C-D class: Age of Reason, Stovy Brown; Non Spinnaker class: Coyote, with Richard Griner; and the new cruising class: Sabrena with Mike Ironmonger. All results are preliminary and subject to modification.
Special awards: The Joseph Waldschmidt Best in Fleet Trophy was won by Defiance skippered by Katie Davis. The Bickell Award, named for a racer who lost his life sailing in the 1994 Governor's Cup, is awarded to the skipper and crew whose finish position shows most improvement over last year. It went to The Jackal led by John DeFilippo. The Alumni Trophy went to the Flying Jenny 7 skippered by David Askew. To be eligible, two or more of the boat's crew must be St. Mary's alumni. They were Arnis Baltins '91 and Matt Beck '92. Finally, the Patuxent Partnership (TPP) Trophy was awarded to The Riddler skippered by Clarke McKinney. A boat's crew must include two employees from a TPP-member company, active duty military, or Department of Defense civilian personnel.