Driver causes one accident then proceeds on to cause fatal crash which claims life of two young women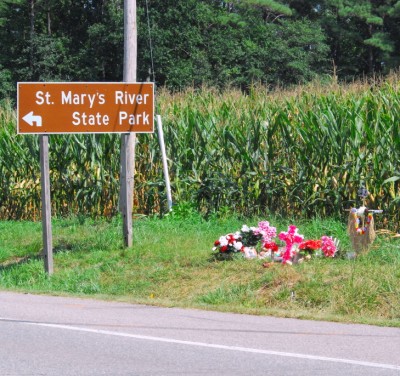 Friends and family have laid memorials at the location where their loved ones perished on August 4 after being struck head-on. Tire marks and paint from the police investigation can still be seen on the roadway six days later. (Photo: David Noss on 10-AUG-2011)
CALIFORNIA, Md. (August 05, 2011)—Police report that Robert Rice, Jr., 34, of Great Mills, caused a one vehicle accident near Route 5 and Piney Point Rd., then proceeded on to cause a second accident nearly a mile away which resulted in the death of two young women. The crashes occurred around 6:50 p.m. Thursday.
Police determined that Rice first struck a 2005 Toyota Sienna operated by Sophie Newbury, 40, of Leonardtown. Rice was driving a 2007 Chevrolet 2500 pickup truck. After striking Newbury, Rice continued northbound on Route 5. Newbury followed Rice in an attempt to get his license plate number for the hit and run.
Nearly a mile later, near Chingville Road and Route 5, police say Rice struck the rear of a 2011 Toyota Sienna driven by Dyhalma Trudell, 54, of Leonardtown, that was also traveling northbound. The collision sent the Toyota Sienna into the grass off the northbound side of Route 5. Rice's Chevrolet 2500 crossed the center line and struck a 2008 Chevrolet Impala driven by
Chernica Boyland
, 22, of Lexington Park, that was on southbound Route 5.
Lisa Annette Proctor-Brooks
, 22 of Leonardtown, was a passenger in the Impala.
Ms. Boyland and Ms. Proctor were pronounced deceased on the scene. Mr. Rice and Mr. Trudell were transported to Prince George's Hospital Center with non-life threatening injuries.
Ms. Newbury, who was hit earlier, came upon the fatal motor vehicle collision and stopped to offer assistance. She was subsequently transported to St. Mary's Hospital with non-life threatening injuries sustained in the hit and run collision.
The cause of the collision remains under investigation by the St. Mary's County Sheriff's Office Collision Reconstruction Team. Anyone who may have witnessed either collision is asked to contact DFC Timothy Reese at 301-475-4200 ext. 9115.