Police: Suspect was able to acquire between $500 and $3000 dollars from each of 50+ customers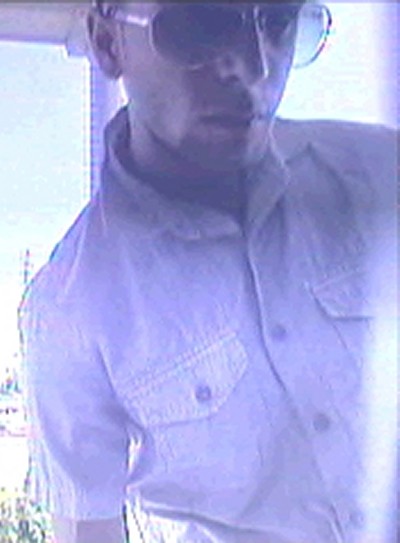 This security camera photo from an ATM at Sun Trust Bank in Dunkirk shows an unidentified thief as he installs a bank card skimmer. The thief was able to obtain information for 50 or more accounts and subsequently pilfered between $500 and $3000 from each one.
CALIFORNIA, Md. (August 1, 2011)—An unknown thief obtained the account information for more than fifty Sun Trust Bank customers and subsequently pilfered between $500 and $3000 dollars from each account. The thief was able to obtain the information by installing a device known as a skimmer on an ATM machine on the exterior of the bank located at 10500 Southern Maryland Boulevard in Dunkirk.
A skimmer is a device that fits over the card slot on the ATM and captures the card's account and PIN information. The data is stored in memory on the skimmer for when the thief returns to retrieve the device and stolen information. Thieves can subsequently manufacture their own ATM cards using the stolen data.
Police reviewed security camera footage from the ATM and determined that an unknown white male placed the device on the ATM on July 23 at 3:58 p.m. and removed the device the following day at 8:05 p.m. The bank reported the scheme to the Calvert County Sheriff's Office on July 28 at approximately 1:27 p.m.
Police are advising Sun Trust customers who used the compromised ATM in Dunkirk on July 23 or 24, and suspect their account has been compromised, to contact the bank in order that a refund may be issued. The bank will also forward the appropriate information to investigators.
Det. N. DeFelice is investigating.
RELATED INFORMATION:
"Would You Have Spotted the Fraud?" Krebs on Security
http://krebsonsecurity.com/2010/01/would-you-have-spotted-the-fraud/