By Sarah Miller, sarahmiller@countytimes.net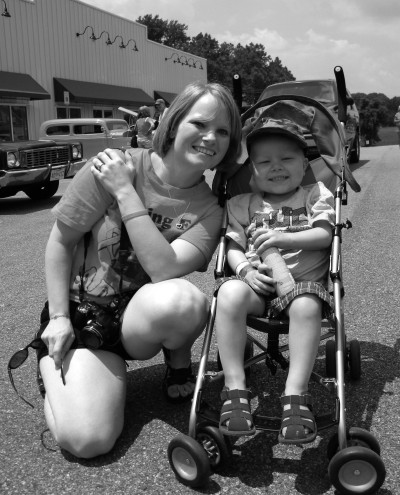 Adam Lumpkins with his mother Jamie. (Photo: Sarah Miller,
The County Times
)
HOLLYWOOD, Md. (July 14, 2011)—A car show at Quality Auto Body and Collision on Sunday raised more than $6,000 to benefit Adam Lumpkins.
Lumpkins was diagnosed with leukemia on Christmas Eve 2008, when he was 1 year old. At that time, he underwent chemotherapy treatments and, more recently, doctors found leukemia cells in his bone marrow, necessitating a bone marrow transplant and further treatments.
To help pay for the costs of hospital stays and treatments, Lumpkins' family has been helping by holding fundraisers.
Steve Long, a co-owner of Quality Auto, and cousin of Lumpkins' parents, said helping his family was something that came natural.
"It makes stuff less stressful for us," said Lumpkins' mother, Jamie Lumpkins.
All food at the car show was donated, as well as items for the raffles, like Blue Crabs tickets and gift baskets, Long said. No money came from out of pocket, and all proceeds are benefiting the Lumpkins family.
"It shows how generous a community can be," said Kim Edwards, Long's sister. In addition to money raised through the raffles and registration fees for the cars in the show, people made cash contributions toward the cause as well.
"Anytime it's for something like this, it's worth it," said Ed Sigmon, a member of the East Coast Drifters who had his car in the show.
The East Coast Drifters also donated $100 to help the Lumpkins family, Sigmon said. East Coast Drifters are among several car clubs that make it a point to come out and raise awareness for charities and fundraisers involving children. East Coast Pro Street also had members and their cars at the show.
"Everyone comes out for kids," said Bill Cole, a member of East Coast Pro Street.