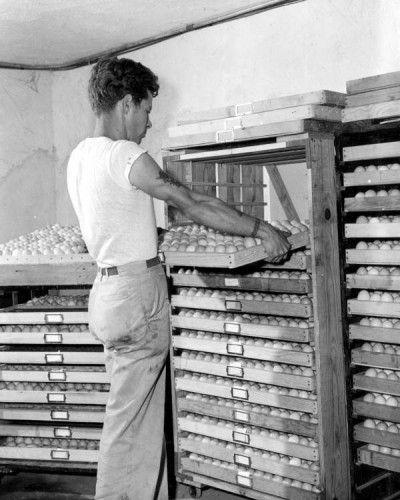 Chicken eggs inside a chicken hatchery in 1950. The Md. Dept. of Agriculture urges citizens who want to raise backyard chickens to purchase them only from hatcheries that are certified by the USDA's National Poultry Improvement Plan (NPIP). (Photo: Florida State Archives)
ANNAPOLIS (July 14, 2011) – With summer officially in progress, a growing number of Marylanders are expected to use the warmer, longer days to begin raising backyard chickens. The best way to ensure a positive experience is to start by purchasing healthy chicks from certified, approved sources and registering flocks with the Maryland Department of Agriculture (MDA).
"Poultry is Maryland's number one agricultural commodity accounting for $640 million (40 percent) of farm income in 2009 and directly supports approximately 8,000 jobs on Maryland's Eastern Shore," said Agriculture Secretary Buddy Hance. "MDA's registration program is designed to protect all the poultry and bird industries in the state – from commercial flocks to fairs and show flocks to backyard flocks. In the event of any poultry disease outbreak, a rapid response is essential to prevent the spread of disease and the loss of family income."
"It's much easier to raise and maintain a healthy flock if you start with a healthy flock," said Dr. N. Jo Chapman, assistant chief of Animal Health, and a veterinarian, at the Maryland Department of Agriculture (MDA). "If a new bird harboring a disease is brought into a flock, the whole flock could become infected and be lost."
National Poultry Improvement Plan Certification
Dr. Chapman urges citizens to purchase chickens only from hatcheries that are certified by the USDA's National Poultry Improvement Plan (NPIP) and permitted by MDA. NPIP hatcheries follow strict biosecurity practices, maintain detailed records of where their chicks come from, and have had their sites and chickens tested for particularly debilitating diseases. The standards incorporated in the NPIP are developed by industry, state and federal officials, working together to ensure the safety of poultry and related products for both import and export across state lines and around the globe.
Anyone who sells or distributes eggs or live poultry in Maryland must meet NPIP standards and hold a permit from MDA; however, many chicks are sold online and delivered through the mail by uncertified and unapproved hatcheries. The practice is not only illegal but can be deadly to your flock. Healthy flocks can be ravaged by one sick chick brought in from an unapproved source.
Poultry Premise Registration
Backyard flock owners, who generally keep birds as pets or for private use of their eggs, are not required to meet the stringent NPIP standards; however, they are required to register their location with MDA. The purpose of the registry is to enable MDA to contact flock owners immediately when a potential disease is identified to quickly and safely contain the disease and prevent it from spreading to other flocks.
The Maryland General Assembly created the mandatory poultry registration program in response to the 2004 avian influenza outbreak on Delmarva to identify and locate poultry populations, such as backyard flocks, not registered with industry groups or the state.
In the event of an outbreak, MDA will contact all flock owners who might be infected and provide them with information and instructions about the specific precautions they need to take to keep their birds and families healthy. Flock owners not on the registry may never know a disease is rampant until their flock dies. Likewise, if a registered flock owner has birds that develop an illness, MDA will work with the owner to contain the disease. Flock owners who are not registered put their neighbors' flocks – and maybe even the state's poultry industry – at risk.
There are currently more than 3,200 flocks registered in Maryland, including more than 200 in Baltimore City. The registry is confidential, free and easy. To register, visit:
www.mda.state.md.us/animal_health/poultryreg/
.
"Raising flocks of chickens, like raising any other pet, requires a certain amount of effort and vigilance if the animals and their owners are to stay healthy," said Dr. Chapman. "People who get a dog want to start with a healthy dog, but they also know they have to take other steps to keep that dog healthy – like annual shots. It's the same with chickens. There are bio-security measures that flock owners need to practice from day one to ensure their birds and families stay healthy."
What if Your Chicken Gets Sick or Dies?
Despite the best efforts of some flock owners, chickens sometimes do get sick and die unexpectedly. MDA urges flock owners to report sick birds to the agency if more than one bird in a flock is ill since that could be the start of a devastating outbreak. MDA may direct flock owners whose birds die of unknown causes to send the bird to one of the state's two animal health laboratories for testing. There is no charge for that service. Those labs will determine whether the bird died of a serious or contagious disease or some other cause. Call MDA Animal Health Program at 410-841-5810 to report an unusual disease in a flock.
Veterinarians who treat pets do not usually treat poultry or livestock, but there are avian vets in Maryland who can be contacted if your flock is sick. To find an avian veterinarian, go to the Association of Avian Veterinarians website at
www.aav.org/search/
. Also, ask the hatchery you plan to buy from if they are NPIP certified or find an NPIP hatchery through the USDA NPIP Directory of Participants at
www.aphis.usda.gov/animal_health/animal_dis_spec/poultry/search-dir.shtml
. Or call the MDA Animal Health Program at 410-841-5810.
Unusual symptoms that may indicate your chicken is sick and should be reported include:
-- Sneezing, gasping for air, coughing and nasal discharge
-- Watery and green discharge
-- Lack of energy and poor appetite
-- Drop in egg production, soft or thin shells, misshapen eggs
-- Swelling around the eyes, neck and head
-- Purple discoloration of wattles, combs and legs
-- Tremors, drooping wings, circling, twisting of the head and neck or lack of movement.
To ensure healthy flocks, visit the USDA's Animal Health website for more information:
www.aphis.usda.gov/animal_health/birdbiosecurity/
. To learn more about protecting yourself and your children from diseases carried by poultry, see the Center for Disease Control's (CDC) website, "Healthy Pets, Healthy People" at
www.cdc.gov/healthypets/
.
Source: Maryland Department of Agriculture