A Wi-Fi node, one of thirteen installed in downtown La Plata's free network, can be seen mounted to the left side of the post on this building. (Photo: Town of La Plata)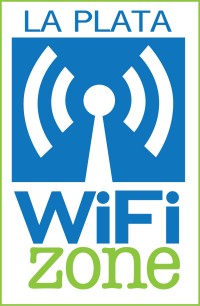 LA PLATA, Md. (July 14, 2011)—Downtown La Plata's Municipal Wi-Fi system recently serviced more than 1,000 users in a month for the first time, logging 1,001 users over the previous 30 days. More than 86 gigabytes of data was transferred during that period. La Plata's free public Wi-Fi system is provided by a partnership between the Town of La Plata and the Charles County Public Library.
"During testing last fall and through the winter, about 200 people found the Wi-Fi system." said La Plata Mayor Roy Hale, "Since mid-February, when service began across downtown, the number of users has steadily increased. As mobile devices become more common this service will continue to expand."
The network ranges from Centennial Street at 301 in the west to the Library in the east, and from Town Hall in the south to the Farmer's Market on the north side of downtown.
The broadband Internet access is provided at no cost to visitors to La Plata's downtown through thirteen nodes that offer the wireless connectivity. Much like a wireless network in our homes and businesses, the 'Town of La Plata' network is visible from computing devices with wireless accessibility. The signal to access the Internet travels from your mobile device to the nearest node. It transmits from node to node, until it reaches the wired connection to the Internet at the Library. It works similarly to accessing the Internet at a computer at your local branch.
Community partners who host nodes include Civista, Port Tobacco Players, Facchina, PNC Bank, South Centennial Office Condominium Association, Candy Clark Boutique, and Ed Kelly. In addition to their buildings, there are nodes on the Library's La Plata Branch, La Plata Town Hall, and the old fire station under the Star Memorial.
Users can access the system by locating the 'Town of La Plata' network on their mobile device, and clicking through the splash page. The ability to receive a signal varies depending on the antenna power in your mobile device. The Wi-Fi network covers most public spaces in downtown La Plata, and includes the concert lawn at La Plata Town Hall.
If you are a downtown La Plata property owner who would like to discuss hosting a site to help enhance coverage, contact Aaron Krebeck of the Charles County Public Library at 301-934-9001.