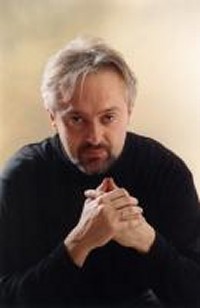 Spanish pianist Antonio Soria
performs at July 15 River Concert.
ST. MARY'S CITY, Md. (July 14, 2011)— The St. Mary's College of Maryland's River Concert on July 15 transports listeners across the Atlantic to Old Europe. "We call it 'European Vacation' because we feature music that conjures images of Europe so beautifully," said Jeffrey Silberschlag, Chesapeake Orchestra music director. "They include Strauss' 'Alpine Symphony' and 'Nights in the Garden of Spain' with exciting Spanish pianist Antonio Soria."
Soria received his training in Barcelona and Bordeaux, and performs as a soloist around the world.
The weekly celebrations on the
college's Townhouse Green
, just off of College Drive in St. Mary's City, continue every Friday through July 29 with world-class music and a variety of food from local vendors. Event organizers say guests are also welcome to bring picnic baskets.
Gates open at 5 p.m. and concerts start at 7 p.m. The outdoor concerts are free and open to the public.