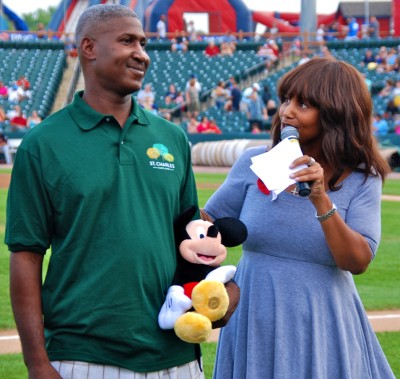 Disney World promotion winner Lester Jackson and My Magic DC 102.3 WMMJ radio DJ, Cortney Hicks, at the June 25 Maryland Blue Crabs game at the Regency Furniture Stadium in St. Charles. (Submitted photo)
ST. CHARLES, Md. (July 5, 2011)—When Lester Jackson, who is on active duty with the United States Marine Corp, set out to visit the model homes in St. Charles last month, he never expected that exploring a new home might take him much further than nearby St. Charles. But, on Saturday, June 25, in front of nearly 5,000 baseball fans at the Blue Crabs Stadium in St. Charles, Jackson was announced as the winner of the St. Charles Walt Disney World Dream Trip promotion. He will be heading out later this year on a five-day, four-night package that includes reservations at a Walt Disney World resort hotel, airfare, and tickets each day to a Disney theme park.
This spring, the St. Charles Companies, developer of the 9,100 acre master-planned community, created a promotion to encourage visitors to explore the community's four new model homes with the chance to win an all expenses paid trip to Walt Disney World in Orlando, Florida. Prospective homebuyers visited one of the new model homes by Lennar, Ryan, or Richmond American to be eligible for the promotion.
Along with the Walt Disney World promotion, visitors to the model homes were given two free tickets to the June 25 Southern Maryland Blue Crabs baseball game, courtesy of the St. Charles-based team.