Graduates of Corrections Entrance-Level Training Program Session 44, pictured with their instructors and SMCJA staff. [Click image for larger rendition] (Submitted photo)
CALIFORNIA, Md. (July 5, 2011)—The Southern Maryland Criminal Justice Academy (SMCJA) celebrated the graduation of 21 correctional officers at a ceremony held June 24 at the Northern High School Mary Harrison Center in Owings.
The correctional officers completed a 10-week training program that began May 2. Twelve of the graduates are members of the St. Mary's County Sheriff's Office, seven are of the Charles County Sheriff's Office, and two are of the Calvert County Sheriff's Office.
During the ceremony, SMCJA instructors presented awards to correctional officers who excelled in two categories. Charles County Correctional Officer Bryan Chambers received the scholastic award for earning a 98 percent grade point average, the highest in the class. St. Mary's County Correctional Officer Benjamin Luffey earned the physical training award, scoring 739 out of 800 points during PT tests administered at the beginning and end of the training program.
The class boasted a 93.7 percent GPA. They increased their PT scores by an average 24 percent. Their class motto, chose by the officers at the beginning of the training program, was "Always Outnumbered, Never Out Done."
Calvert County Commissioner Patrick Nutter was the keynote speaker and Charles County Correctional Officer Maritza Casarrubias was the class speaker. Nick Valltos of the College of Southern Maryland's Legal Studies Department spoke about an articulation agreement between the Academy and the College that provides each graduate with six college credits toward a criminal justice degree. Reverend David Mohler, a Calvert County Sheriff's Office chaplain, delivered the invocation and benediction. Mark Radcliff, correctional coordinator for the Maryland Police and Correctional Training Commissions, shared opening remarks. The Academy's Board of Directors — Charles County Sheriff Rex Coffey, St. Mary's County Sheriff Tim Cameron and the board's president, Calvert County Sheriff Mike Evans — also shared remarks. Deputy Andre Mitchell and Mrs. Joy Mitchell of the Calvert County Sheriff's Office performed the national anthem and the Calvert County Sheriff's Office's Honor Guard presented the colors.
The following people graduated:
St. Mary's County Sheriff's Office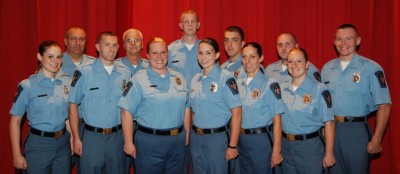 Front Row Left to Right: Catherine Poole, Maurice Gogul, Lindsay Irvin, Natalie Dillow, Sebije Boyd, and Monica Wynn. Back Row Left to Right: Stanislaus Kuczewski, David Long, Anthony Cole, Scott Brown, Zachary Mclane, and Benjamin Luffy. [Click image for larger rendition] (Submitted photo)
-- Sebije Boyde
-- Scott Brown
-- Anthony Cole (graduated with academic honors)
-- Natalie Dillow
-- Maurice Gogul
-- Lindsay Irvin (graduated with academic honors)
-- Stanislaus Kuczewski
-- David Long
-- Benjamin Luffey (received the Physical Fitness Training Award)
-- Zachary McLane
-- Catherine Poole
-- Monica Wynn
Charles County Sheriff's Office
-- Maritza Casarrubias
-- Bryan Chambers
-- Sherrod Davis
-- Aaron Jones
-- Brian Pickle
-- Mark Price
-- Christopher Rumsey
Calvert County Sheriff's Office
-- David East
-- Lovel Manago