By Sarah Miller, The County Times (sarahmiller@countytimes.net)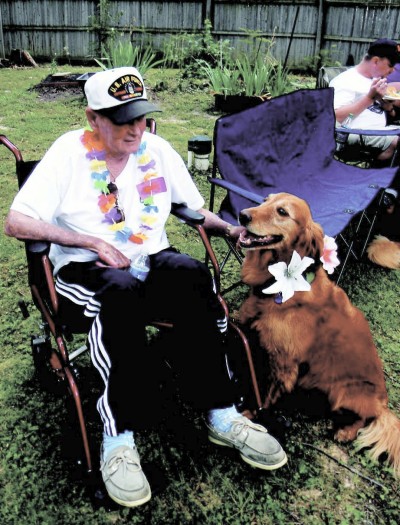 Ed Lennon and Maggie relax during the golden retriever afternoon. (Photo: Sarah Miller)
HOLLYWOOD, Md. (June 30, 2011)—One group in Southern Maryland is making sure golden retrievers in need of a home are well cared for. Golden Retriever Rescue of Southern Maryland has been taking care of goldens for the past four years.
"We're not a huge group," said President Pat Johnson, adding the group only takes in between 30 and 35 retrievers per year.
Once the dogs come in, they get them tested for diseases such as heartworms and have them spayed or neutered.
"We spent more money on vet care this year than we spent all of last year," Johnson said.
She said the various health issues golden retrievers can face have given them the nickname "loveable lemons."
"I couldn't imagine not having a golden," said Cleona Stevenson, who fostered one dog who required two knee surgeries before being adopted.
Unfortunately, the myriad of health problems that can plague goldens is also the reason some of them are given up to shelters or turned over to the retriever rescue. Retrievers prove to be an expensive breed, and visits to the vet are often the first thing to go to save the owner money.
She also said they tend to be like Velcro, sticking very closely to their owners and acting like overgrown lapdogs. Like the dogs, Johnson said the owners and foster families of golden retrievers are "happy, easy going people like their dog."
She said goldens are "lampshade dogs" because of their goofy, fun loving demeanor.
For the families temporarily fostering the animals, Johnson said the rescue group pays for everything, including the veterinary bills and food for the dogs.
Barbara Davis, the publicity chair for the group, said some of the foster families turn into "failed fosters," meaning the families putting the dogs up temporarily end up full-out adopting the dogs for lack of a suitable adopter, or because they become too attached.
"We're really hurting for foster families," Davis said.
Individuals interested in fostering or adopting golden retrievers can visit
www.goldenretrieverrescueofsouthernmaryland.org
to find an application to begin the process. Johnson said after a family has applied, they will schedule a home visit where somebody will bring a dog to their home so a family can see just how much space a retriever will take up in their home. They also interview the family to determine whether an older or younger dog will suit them best.
Johnson said the group is also looking for foster families who don't already have any dogs because some animals simply don't get along with other dogs.
Johnson said adoptive families and foster families get periodic follow-ups to make sure both dog and family is happy. She said rarely has a dog been returned from an adoption, and none have been returned in the past two years.
In another effort to keep tabs on the dogs, and to allow the families and animals time to be social with each other, there are monthly meetings at the dog park, as well as other get-togethers, such as the Rita's fundraiser night last Friday and the picnic Saturday, where about 20 people and animals came out to an afternoon romp together.
"They do marvelous things," said Glenda Spragg, who has fostered six animals and adopted a couple more. She and Moose, who she adopted three and a half years ago, were among the families at Saturday's picnic.
Johnson said she started the group because of a need in the county, but some of the members have been involved in golden retriever rescue and adoption for much longer. Stevenson said she adopted her golden from a shelter 16 years ago.
"I love all the goldens," Stevenson said.